Cascade Expedition with Team Queer Mountaineers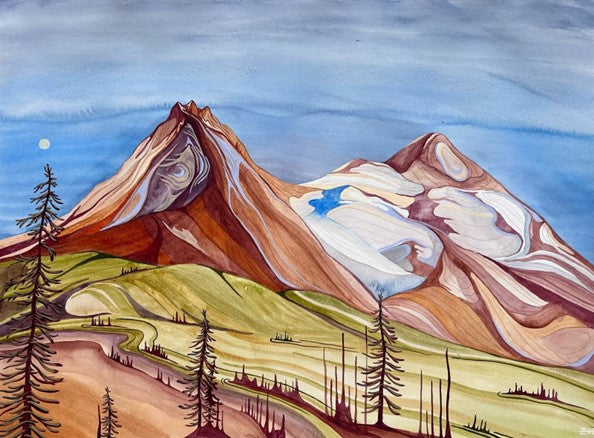 This spring, Team Queer Mountaineers embarked on a mountaineering expedition in the Cascade Mountains. Their expedition took them up:
Middle Sister via the North Ridge
Mt. Hood via The Old Chute
Mt. Adams via the South Side
Mt. Rainier via the Emmons Glacier
Forbidden Peak via the West Ridge
Mt. Baker via Easton Glacier
Mt. Shuksan via the Sulphide Glacier
The account below brings readers through the victories and challenges of their journey. It highlights the importance of being flexible in the face of changing conditions, prioritizing safety and proper nutrition, and venturing out with teammates you can trust and rely on. Whether you're planning or dreaming of a mountaineering expedition- in the Cascades or elsewhere- or just looking for an exciting and inspiring tale of adventure, you'll want to give this a read:
Written by Miriam Caron. Inspired by a trip from May 15 to June 8, 2023 with Lizzie Wenger, Sierra Smith, and Ella Meyer.
Mountain One: Middle Sister via the North Ridge: May 16th-17th:
We began our month-long expedition of the Cascades with Middle Sister in central Oregon on May 16th, 2023. Standing at 10,046', Middle Sister is the second most technical but lowest elevation of the Three Sisters' Range- the perfect warm-up mountain to knock us back in shape. By far the hardest part of this climb was the approach.
Approaching the Mountain
Due to the devastations of the Mill fire in 2017, the entire portion of the Deschutes National Forest and Three Sister's Wilderness that encompassed the approach from Pole Creek trailhead to Middle Sister was a burn zone, offering no shade or protection from the elements. The burn combined with a heavy winter in central Oregon meant that the trail was almost entirely covered in downed trees. It was rare that we could hike fifteen feet before climbing over a series of fallen trunks.
Miriam Stepping Over a Downed Tree
The approach felt like we entered a game of Frogger while carrying 70lb packs containing our backpacking and mountaineering gear. Most of the trail was still covered in snow, which was easy to punch through with the unsteady downed logs beneath. In most spots, the logs and snowpack were so thick that the trail couldn't be seen beneath it, leading us to rely heavily on our GPS to stay on route. When we finally arrived above the tree line, the rest of the trip was smooth sailing. We camped at about 7,000' and were excited to try our first Backpacker's Pantry meal. That night we had the Pad Thai. The hot chili, crunchy peanuts, and cooling lime from the Pad Thai filled us up and put us right to sleep.
After an alpine start hitting the slopes around 3am, an amazing sunrise, and one front pointing section around 9,000', we submitted Middle Sister via the North ridge at about 9am.  Although on the steeper sections of the climb the snow was in great firm condition, the last 50' of mellow walking to the summit were quite soft. Miriam post-holed through the snow so much that she eventually got frustrated and crawled to the summit! After a quick summit celebration of sour candy and pictures, we made our way back to camp, where we were excited to have Backpacker's Pantry Three Sisters Southwestern Quinoa and Beans while on the Three Sisters Mountains! We then made our way down through the fallen forest and back to the car on May 16th. 
"Behind the Burn–Three Sisters, OR" Lizzie Wenger 2023
The view from Middle Sister, Lizzie Wenger, 2023
Mountain Two: Mt. Hood via The Old Chute: May 20th-21st:
We set out from the Mt. Hood climber's trail at Timberline Lodge at 11pm on May 20th. After the longest mile hiking up the Palmer glacier to the top of the Palmer ski lift, we cut left and traversed the Zigzag glacier. We made it to the Illumination saddle at about 3am on May 21st. However, after peering down at the Reed glacier from the vantage point of the saddle, we could see huge boulders fallen from the couloirs above the route we intended to climb as well as gaping crevasses. We made the decision that the melt out was too severe and we could not climb the intended route of the Leuthold couloir. After traversing back across the Zigzag glacier, we made it to Hell's Kitchen; flats at the base of the Hogsback where sulfur steam vents perfume the air with a rotten egg smell. At Hell's Kitchen, we ditched our rope and pickets (snow protection) and strapped on our crampons. We joined what felt like the rest of the Portland metro area in climbing the Old Chute route to summit, because the more popular Pearly Gates route had large crevasses blocking its entry. The Old Chute route was extremely meted out and required us to front point on our crampons and use two ice tools the entire way up.
Miriam on the Old Chute
Although the front pointing was straightforward, the huge crowds made this very dangerous. If even one climber had fallen, it would have created a domino effect of climbers with sharp crampons on their feet and ice axes tied to their harnesses cascading down into the steam vents below. Thankfully, we made it to Mt. Hood summit (elevation 11,249') at 7:00am and were able to descend down to Hell's Kitchen before the sun melted out the snow even more.
A Crowded Mt. Hood Summit
We made it back to the car around 11am on May 21st, where we shared brunch of the Chana Masala Backpacker's Pantry dinner before making our way to Washington. 
View of Hood summit from the Hell's Kitchen, Lizzie Wenger 2022
Mountain Three: Mt. Adams via the South Side: May 24th:
We arrived at Mt. Adams ranger station on May 22nd, where we picked up our climbing permits and were informed that our intended route of the Mazama glacier was closed. It is on the Yakima Indian Reservation, and they had not opened the area up to outsiders yet this year. Thus, we yet again changed courses and planned to climb Mt. Adams via the standard South Side route.
View of Mt. Hood from Adams
We had been warned of rough roads leading up to the trailhead, but when we arrived at the lower Morris creek campground, we found that the gate to the road to the higher Cold Springs Campground was open. We foolishly kept driving. Less than a mile up the road, our gear filled Subaru Forester was high lifted and stuck in the snow. We spent 4pm to 9pm trying everything from pushing, to digging, to laying logs down behind the tires to create traction, but all we succeeded in doing was getting one wheel submerged in mud and the rest still high lifted and spinning in place. We admitted defeat and set up camp on the snowbank beside our car. The only thing that cheered us up that night was a packet of Backpacker's Pantry Kathmandu Curry and the episode of Queer Eye that we had downloaded on Lizzie's phone before we lost service. The next morning, after one last attempt at digging ourselves out, we decided to give the forest service a call. We phoned the rangers and began a game of phone tag to get a hull out of the now slushy snow and mud. The ranger station told us our best bet was to call the local grocery store in Trout Lake. When we called the Trout Lake Grocery Store, they gave us the number of a local named Gary and told us "He pulls people out," before wishing us luck and hanging up. After a surprisingly short chat with Gary on the phone, our savior arrived about twenty minutes later in his giant Ford F-250 Super Duty with a hauling rig that looked like it could pull apart a building. Gary was a small but strong retired forest service ranger, sporting well used denim overalls and a clean white shirt. About fifty hipsters in Portland would have lined up around the block to cop his perfectly worn but clean look. While he hauled our car out with ease, he told us that last year he pulled 36 cars out of the snow and mud on the same road to Mt. Adams, which soothed our bruised egos. Because we had lost a whole day due to our stuck car and our new route was significantly easier than our intended route, we decided to climb all 7,000 ft elevation and 18 miles of Mt. Adams in one day.
Lizzie in the White Out
The next day, May 24th, we had yet another alpine start, setting out around 5am and summiting around 2pm in a complete whiteout. On our way up, we were treated with amazing views of Mt Hood and Mt. St. Helens. However, due to our white out summit, we were robbed of a Mt. Rainier sighting. On our way down, we did a legendary 2,000' glissade down from the false summit to the Lunch Counter flats, where we fueled up on Backpacker's Pantry Cuban Coconut Black Beans and Rice before the eight mile descent back to camp at Morris Creek.
Miriam at Lunch Counter with a lopsided pack
Mountain Four: Mt. Rainier via the Emmons Glacier: May 27th-29th:
We were joined by our good friend Ella on Mt. Rainier. The night before we began our climb, anticipation was in the air. A year before, in August in 2021, Lizzie and I had attempted to summit Rainier via the Disappointing Couloir route, but due to a lightning storm we had to turn around at 12,000'.
Mt. Rainier with the mountain in background, Lizzie Wenger 2023
While we had been at camp Muir the previous year, we had been the only all-female climbing team. We picked up a vibe that the climbing ranger at camp Muir, as well as almost all the other climbers sharing camp, doubted that we were going to the summit and even assumed we were part of a guided group. The ranger went so far as to stare us down during the pre-climb safety talk he gave everyone, even though we had more snow protection gear then most of the other teams. This year, we returned to the rainier summit hungry, excited to try a new route, and determined to prove ourselves as badass femmes. Given that Ella had grown up in Seattle with Rainier constantly in their backdrop, they were absolutely stoked to get onto the mountain.
Team Queer Rainier Before
We began our climb on May 27th from the White River campground at 4,000' and hiked up to camp Sherman at 9,500', where we had to dig out a platform in the snow for our tent. We planned for an ultra-alpine start around 10pm that evening, so we inhaled our favorite calorie packed Cuban Coconut Black Beans and Rice Backpacker's Pantry meal.
Clearly enjoying our Backpacker's Pantry meals
That evening, we left the safety of camp and began our crevasse-filled journey up the Emmons glacier. As we nodded off from sleep deprivation at about 10,500', we were starkly awoken by a snow bridge crackling beneath our feet, and we were reminded just how dangerous our summit pursuits were. We safely made it to the highpoint of our trip- Mt. Rainier summit at 14,411'- shortly after 12pm. After taking a short summit nap, which led to a killer glacier goggles tan, signing the summit registration book, and sharing our treats of pop rocks with other climbers and ski mountaineers, we started our descent. We hoped to make it back to camp before the afternoon sun turned the stable snow to slush. We had a smooth journey down the Emmons glacier, having no problems crossing the snow bridges over semi-truck sized crevasses, until we reached the beginning of the Emmons flats.
Sunrise on Emmons Glacier
We were less than a quarter mile from camp when we approached a large crevasse with a snow bridge so big you wouldn't know you were crossing an almost bottomless pit unless you were sure to check far to your left and right as if crossing a road. We identified the crevasse and one by one crossed the crevasse while the other two of us were ready to self-arrest. Lizzie first crossed the afternoon slush safely, then Ella followed. However, as I followed in their footsteps, my foot plunged through the crevasse and I was up to my hip in snow. My boot felt nothing but air beneath it. Luckily, my competent partners jumped into action. After Ella jumped into self-arrest, Lizzie dug a dead-man's anchor (she buried a snow protecting picket in the snow that could hold our weight) as quickly as she could while Ella began to belay me off their self-anchored (stabbing the shaft of an ice ax all the way into the snow so only the pick and ads were exposed). Once I was on belay, I threw Ella my heavy pack, then was able to remove my leg from the crevasse and crawl across the crevasse. As we were stumbling into camp, a group of middle-aged men who were setting up camp at the start of the Emmons flats arrogantly looked at our exhausted faces and asked if we were doing alright, to which Ella quickly responded, "We're doing great, how are you?" We crawled into our tent and gulped down a bag of Three Bean Veggie Stew and Kathmandu Curry and treated ourselves to our favorite Backpacker's Pantry desert: Mango Sticky Rice. We loved our meals so much that each night we would share two Backpacker's Pantry Meals so that we got to try as many meals as possible! After an amazing night's sleep, we awoke and powered up on the Rocky Mountain Scramble and Peanut Butter and Banana Oatmeal breakfast meals from Backpacker's Pantry before making our quick descent, glissading down the inter-glacier zone to the White River campground and sadly saying so long to Ella.
Team Queer Rainier After
Mountain Five: Forbidden Peak via the West Ridge: June 1st-3rd:
After meeting up with my oldest climbing partner from childhood and former co-guide at the Mt. St. Helens Institute, Sierra, we headed for the North Cascades to pick up permits for the Boston Basin. The next day, we bushwhacked through the beautiful rainforest up 3,000' under waterfalls, over tree trunks, and across streams to the low camp at Boston Basin. These were our heaviest packs to date, carrying our normal glacial travel protection as well as alpine traditional climbing rack, camping gear, and of course our Backpacker's Pantry meals. We did not carry a scale with us, but I would guess the packs weighed over eighty pounds.
Miriam sorting gear before the climb
We were greeted by a complete white out at camp along with the only other group on the mountain, a team of three climbers and a guide from the American Alpine Institute. That evening, Liz decided that after four back-to-back mountains, her body needed a break, and she would stay back at camp while Sierra and I made a summit attempt of Forbidden Peak. We full-heartedly supported her decision to listen to her body and we knew it would be a great opportunity for her to take some alone time, make art, and journal. That evening, we fueled up on Three Bean Veggie Stew and Coconut Black Beans and Rice before crashing from the day's hike.
Sierra and Miriam being grateful for food!
Sierra and I awoke before the sun arose and the fog lifted, and started meandering up the moraines towards the base of the glacier, closely following the GPS's directions because we were completely blinded by the whiteout. About an hour after sunrise, the fog lifted, and we finally got to see the famous 360˚ views of jagged peaks that surround the Boston Basin and understand why the North Cascades are deemed the American Alps.
Camp at Boston Basin
When we reached the glacier we carefully "threaded the needle" through rock debris and crevasses. We then gained a snow slope and got our first full view of the Forbidden Peak. Although her summit was only 1,500' above us, it was going to require technical rock and snow travel to get there.
A sleep-deprived Miriam enjoys her breakfast
A slightly less sleep-deprived Lizzie enjoys hers
Luckily, we found the crampon tracks of the American Alpine Institute team and followed them up the glacier. As we ascended the steep snow, I spotted a sketchy looking gully and pointed it out to Sierra, joking that we should climb up it for giggles and a fun challenge. After ignoring the snowy gully, we followed the tracks to the base of a rock wall, where we saw a nut (rock protection) wedged into a crack in the wall, and we figured we had arrived at the base of the gully that led to the West ridge that would take us to the summit. We changed into our rock shoes and began ascending the gully. Although we guessed the gully was at most graded a 5.6 climb, the rock was extremely loose and chossy, making it difficult to climb and build ourselves anchors safely. To make matters worse, we were carrying our heavy packs with ice tools strapped to the back, which repeatedly constrained us from reaching the best holds. About three and a half hours and four pitches later, we still did not see the summit ridge.
Sierra very proud of her traditional gear anchor
By 6:30pm we decided to turn around at 8,008' and start repelling down the rock to make sure we were on the glacier before it got dark. As we began our descent down the rock face, we spotted the AAI team emerge from the steep snowy gully that we had joked about climbing earlier, clearly following the intended route and avoiding our sketchy trad climbing. Sierra smartly changed into her mountaineering boots before we began repelling, but I made the mistake of keeping my rock shoes on until the last repel that would lead us to the glacier.
Miriam landing on the glacier in her climbing shoes
Unfortunately, at the last glacier station, there was not enough room to change into my boots. I had to land on the glacier in my climbing shoes, turning my feet into instant popsicles. We made it to the base of the glacier just as the sun crested the horizon, showing off with a lavender and fiery sunset. We slowly made our way down the moraine in the pitch dark.
Sunset from high up
Meanwhile, back at camp, Lizzie had had a restful day of sleeping in and making friends with marmots. However, when the AAI team returned to camp and reported to Lizzie that they had not spotted us all day, she began to panic. She was briefly calmed when she spotted our headlamps up on the moraine, but after my headlamp flashed in her direction indicating low battery, she once again went into a panic thinking that we were signaling for help. After seeing our headlamps slowly but steadily descending the moraine she decided to stay put at camp instead of ascending the scree to meet us. When we finally arrived at camp, we were greeted by Liz, who had piping hot bags of Backpacker's Pantry Risotto with Chicken. It revived us from our 18-hour day on the mountain and put us right to sleep.
Dinner with mountains in the background
Mountain Six: Mt. Baker via Easton Glacier: June 3rd-4th:
After Forbidden Peak, Mt. Baker felt like a mellow treat. The most challenging part of the entire climb was finding a place to park our car at the trailhead and set up our camp at the base of the Easton glacier. While walking to the trailhead, Sierra counted 243 cars. The intense crowds were due to our decision to start our climb on a Saturday, the proximity of the mountain to Bellingham and Seattle, the fact that the popular Coleman glacier route was inaccessible due to road closures, and the overuse of guiding services to teach clients crevasse rescue and rope management skills. Once we did find a free patch of snow among the hundreds of other climbers and skiers, we treated ourselves to our favorite Backpacker's Pantry Pad Thai and Three Bean Veggie Stew dinners and settled in for the evening.
Tent City on Mt. Baker
My Favorite Views
The next morning, we roped up around 7,500', but did not need to place any snow protection the whole way up the mountain. After dodging snow debris from other climbers on the Roman Headwall, we submitted, reaching 10,786' at 10am.
View from the summit of Mt. Baker
Sierra and I enjoyed a summit Pop-Tart (an old climbing tradition of ours), then made our way back down to camp around 4pm and back to the car by 8pm. When we arrived at the trailhead on Sunday June 4th, almost all the 243 cars were vacated. Sierra then became a true hero in the eyes of Lizzie and me. She dropped her pack and jogged to the car over a mile away while Lizzie and I lounged by the packs. A true friend. 
Miriam and Sierra showing off their ice ax skills while setting up camp
While Liz and I waited for our carriage, we recognized the climbing rangers from Camp Sherman on Mt. Rainier hanging out in their decked-out pickups. We were delighted that they remembered us as "the gay lady climbing team," and one of them even gave us a "protect trans youth" patch his friend had made, which I wore to the Denver pride festival later in June.
Sierra helping us take down camp
The Final Mountain: Mt. Shuksan via the Sulphide Glacier: June 6th-7th:  
After securing our permits in town, Sierra, Lizzie, and I once again loaded our packs up with all our alpine trad climbing gear and snow protection and headed into the North Cascades National Park.
View of the North Cascade National Park from Mt. Shuksan, Lizzie Wenger 2023
After bushwhacking up the Shannon Ridge, we made it up a steep slope, which gave us a breathtaking view of a deep valley surrounded by peaks. We then slogged our way to high camp at 7,500', but it was completely worth it, because at the base of the Sulphide glacier we had our best views of the trip yet. As sunset fell on Mt. Baker it turned a rosy pink and the entire North Cascade Range became a dream-like lavender.
Miriam and Sierra on the rope team with Mt. Baker caught in the sunrise while on the Sulfide Glacier
Lizzie leading the rope team up the Sulfide Glacier
The next morning, we roped up at camp and made a smooth ascent up the glacier without placing any gear. We then transitioned onto rock, where Sierra bravely led five pitches of low fifth class, but highly exposed rock up the South-East ridge. Lizzie followed on a fixed line and finally I cleaned (removed) the gear. 
Sierra leading up the Summit Pyramid
We summitted around 10am at 9,131', where we could see as far north as the Canadian Rockies. Unlike Mt. Baker, on summit day we had the mountain completely to ourselves. After an involved repel back down to the snow, we began our exhausted trek back to the trailhead.
Lizzie belying on the Southeast ridge of Shuksan
When we arrived back at camp, we savored our last meal on a glacier and enjoyed the Louisiana Red Beans and Rice, Kathmandu Curry, and a Mango Sticky Rice before having a power nap and packing up our camp. To celebrate summiting our last mountain, we stopped just before we reached the tree line and pulled out a mini bottle of Fireball whiskey. We passed it around, taking swigs and cheers-ing to the wild characters and amazing wilderness we were so lucky to spend the past three weeks with. We arrived back at the cars a bit past midnight, making it a 22-hour day. By far our longest and our best.
Sierra and Lizzie dancing in the evening light at high camp with the NCNP in the background
---