Backpacker's Pantry's Sustainable Business Practices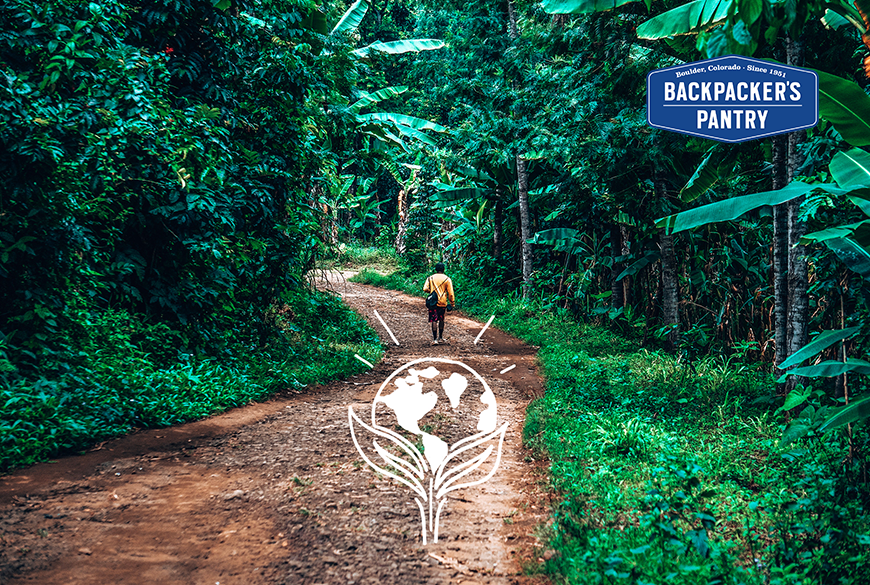 How BP Protects The Planet
Our food is made to be enjoyed adventurously, and to encourage people to explore the vast benefits and joys of nature. Although, in order to continue exploring in the beautiful places that we love, we all have a responsibility to take care of the planet. This is why, at Backpacker's Pantry, we try out best to carry out environmentally-sound business practices as part of our commitment to protect Mother Earth.
Sustainability
 Efforts In Sourcing & Packaging 
Sourcing ingredients for the meals we make is perhaps the most important thing that we do and we take that task seriously. Our goal is to use the best products possible to provide healthy, nutrient-dense meals. 
We do not use any ingredients with GMO's and have continued to increase the amount of organic ingredients in our selection as they become available. Currently, our top 10 organic ingredients include our rainbow quinoa, white quinoa, oats, tomato flakes, onion powder, hemp seeds, garlic powder, skim milk, black beans and evaporated cane juice. We also source as many of our ingredients domestically as we can. If an item is not available in the United States, we do our best to buy international products that are clean and nutritious.
Our facility is USDA Organic certified, Gluten Free certified, Kosher, USDA inspected daily, Non GMO Project certified, and we hold a yearly Third-Party Good Manufacturing Practices certification. In fact, in 2020 we were a proud Colorado Manufacturer Award winner for Outstanding Food Brand/ Co-Packer! We also demand the same level of 3rd party certification that we maintain in our facility, from our suppliers.
Lastly, in 2021, we have downsized our packaging and when the technology exists, we will make our pouches recyclable and one day energy and environmentally neutral!
Our Food Product Implemental Impact Assessment 
In 2020, we used POINT380 to conduct a sustainability study on our meals to calculate the environmental impact of our products in aggregate and by individual product. The research from this study has and will continue to help  us better manage, and achieve our energy and sustainability goals.
Key Takeaways From Study
POINT380 found that Beef is the single ingredient with the greatest overall emissions, land use and water impact. However, plant-based meals like our Pad Thai, Kathmandu Curry and Louisiana Red Beans & Rice scored significantly lower on the carbon emissions scale and are more sustainable. 
We have switched to carbon neutral shipping. Pachama is leveraging data, artificial intelligence, and automation to protect ecosystems, restore forests, and improve carbon markets. We believe that putting better data in the hands of people who care can create a healthy, living planet. Currently, the money we pay to Pachama is invested in the Jari Para Forest Conservation Project in the Amazon Rainforest. This project has an area the size of Delaware and is protecting more than 2,400 species of flora and fauna. Lear more about our carbon neutral shipping here. 
Sustainability
 Efforts In Our Facility
Up until recently, our facility was fully powered by the wind. Now, we are proud to be completely powdered by the sun! This spring, we implemented a solar array that offsets over 100% of our energy needs and is helping us greatly reduce our carbon footprint as a company! Read more about our solar array here. 
Our facility is also made as tightly as possible, meaning R20 walls and a R40 ceiling to keep the building well insulated. Additionally, we have installed in-floor radiant heat (which uses significantly less energy to heat the building) and we have installed eco-friendly air conditioning systems that achieve optimum energy efficiency! 
Giving Back
We have been a proud business partner of 1% For The Planet since 2017. This organization vets non-profits from around the world, in need of support, and creates a platform for companies like us to donate. Through 1% For The Planet, we are able to give back to many environmental non-profits such as The Conservation Alliance, SOIL, Calwood, POW, Save The Boundary Waters and many more. Read more about our partners here. 
Our employees also regularly volunteer to protect our backyard --the front range of the Rocky Mountains -- through trail building efforts, flood damage recovery and more.
Change For The Better
"We realize the time is now to make change happen. We are committed and moving as quickly as we can to make a difference. With the help of our customers you will see tremendous efforts in the coming decade to make our products not only delicious, and good for you nutritiously but environmentally and socially conscious as well." ~ Rodney Smith Former President and 2nd generation owner. 
---