American Outdoor Products Goes Solar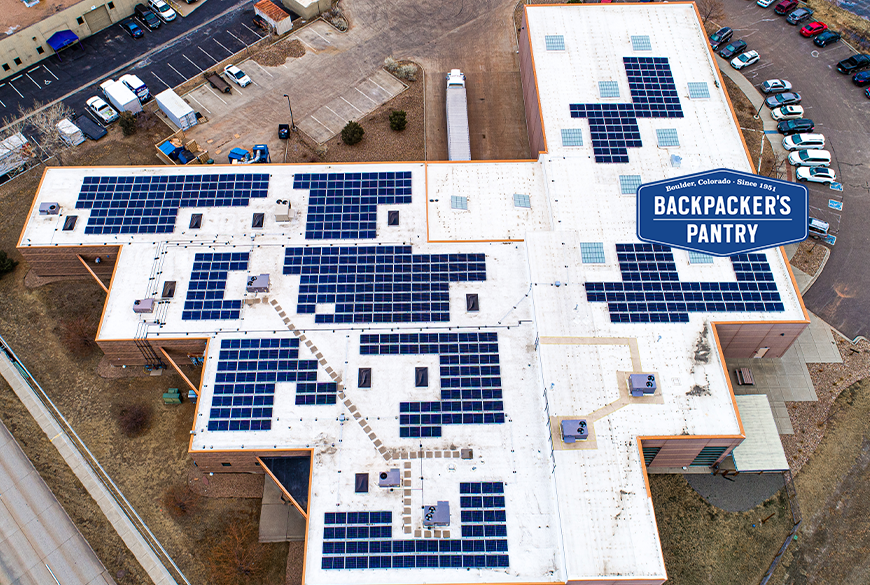 Continuing Their Commitment To Environmental Sustainability 
American Outdoor Products is now offsetting 100%+ of our energy use with a 160 kW solar array. As a local family-owned company, we chose to partner with another local leader, Namasté Solar. Read our press release here and see some incredible facts about our Solar Array down below! 
Boulder, Colorado: American Outdoor Products is investing in solar energy at its office and manufacturing facility in Boulder, Colorado. They chose Namasté Solar to be their partner for the 160kW commercial solar installation. This system will reduce OpEx, generate significant tax benefits, and further the company's sustainability goals.
Financing for this project was provided by the Boulder-based commercial banking team at Sunflower Bank. Sunflower Bank and AOP partnered to refinance AOP's existing building loan in order to complete a comprehensive, energy-efficient roof renovation project that included a commercial solar array, a new HVAC system, and adding roofing and insulation materials while creating minimal environmental waste.
Facts about American Outdoor Products' new commercial solar PV array:
160kW ballasted rooftop system
391 solar panels
Offsets more than 100% of energy needs
This system will prevent 127,643 pounds of CO2 from entering the atmosphere each year, enough to power 26 homes each year.
"American Outdoor Products has always been a forward-looking company, concerned not only about our generation but for the wellbeing of future generations. We have been in business for 70 years and hope to be around in another 70, therefore, we are investing in a sustainable future by offsetting our energy emissions through our new solar array. As an outdoor recreation and food company, we depend on a healthy planet and we recognize that it was time to become a 100% solar powered facility. Namaste Solar has been an amazing partner in this project and they have helped guide us in building this state of the art solar array on top of our building in Boulder, Colorado. We will continue being a leader in our sustainability efforts, hopefully inspiring others to take part in bold and courageous actions to make a positive impact on the planet."
-Soraya Smith
President of American Outdoor Products
"As a local, employee-owned company, we're thrilled to work with American Outdoor Products here in Colorado," said Rachel Mountain, a Project Developer at Namasté Solar. "Solar energy helps property owners reduce operating expenses and boost property value in addition to achieving sustainability goals. We were happy to work with a values-aligned company like American Outdoor Products to design a system specific to their needs while providing a sizeable return on their investment."
-Rachel Mountain
Namaste Solar- Project Developer
ABOUT AMERICAN OUTDOOR PRODUCTS:
American Outdoor Products is a family owned and operated freeze-dried food manufacturer, proudly based out of Boulder, Colorado. Since 1951 they have been leading the industry in their commitment to sustainable practices and making a positive impact. From their humble start as a backpacking food company, and with a father and son leadership team, their company expanded to include not only Backpacker's Pantry but Astronaut Foods, Colorado Spice Blending Co., and Chef Soraya. Now led by Soraya Smith, their deep commitment to environmental sustainability and high-quality ingredients is a way of life that allows them to uphold the values which defined the company from the outset: Making the world a better place.

For more information visit: backpackerspantry.com
-------------------------------------------------------------------------------------------------------------------
ABOUT NAMASTÉ SOLAR:
Namasté Solar is an employee-owned, Certified B Corporation that designs, installs, and maintains solar panel systems for homeowners, commercial property owners, and utility-scale developers. As a Certified B Corp, Namasté Solar is part of a global movement using business as a force for good to solve social and environmental challenges. Namasté Solar consistently ranks among the best solar companies in Colorado and the country and was named Best for the World: Environment (2018) and Solar Power World's Top Contractors (2017). The company was founded in 2005 and has experience installing more than 8,000 solar panel systems equaling over 100 megawatts. For more information visit namastesolar.com
---