Online Gift Cards for Backpackers, Outdoor Enthusiasts & Emergency Prep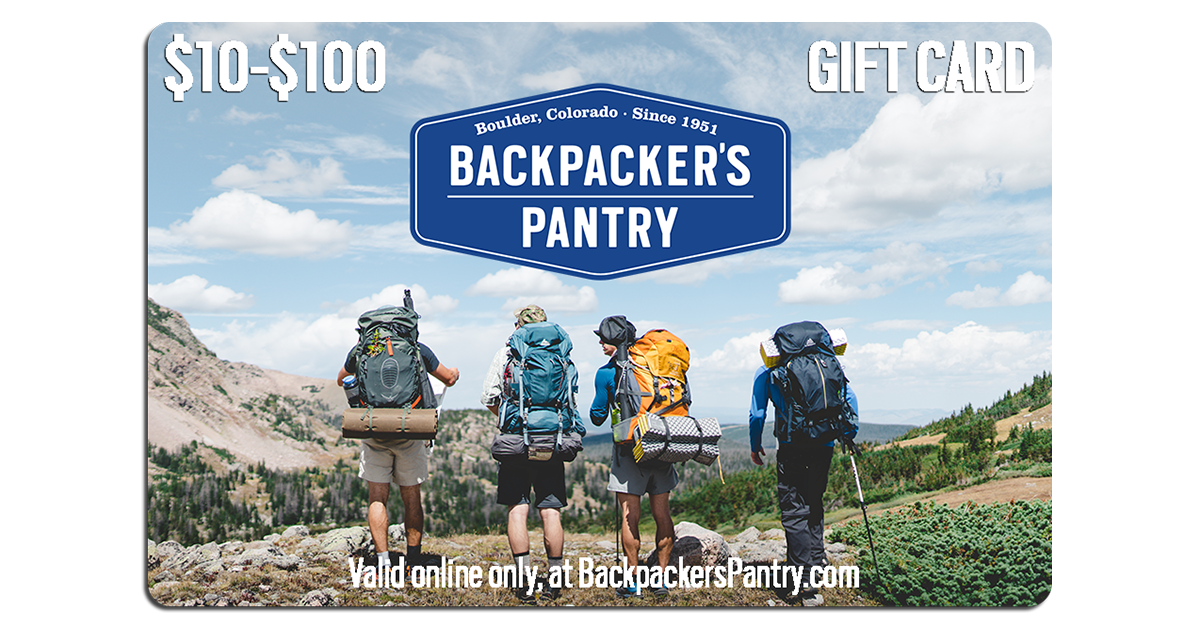 Looking for outdoor gift ideas?
Are you struggling to come up with outdoor gift ideas for your loved ones? Don't let the pressure of finding the perfect gifts put a damper on your holiday cheer. Take the stress out of holiday shopping by purchasing Backpacker's Pantry online gift cards this year!
For Every Kind of Adventurer
Backpacker's Pantry online gift cards make for the perfect gift for all kinds of outdoor enthusiasts, because . . . everyone's got to eat!  A Backpacker's Pantry gift card allows the adventurer to choose their favorite gourmet meals like the irresistible Pad Thai, creamy Fettuccini Alfredo, savory Rocky Mountain Scramble, or the decadent Crème Brule. Give the gift of adventure and freedom by letting them pick the items they'll need the most for their next outdoor adventure.
Emergency Food Supplies For Loved Ones
Backpacker's Pantry gift cards also give the gift of preparedness. Let's face it, 2020 has solidified the importance of being prepared. From a pandemic to natural disasters, Backpacker's Pantry is the perfect, lightweight, shelf-stable,  emergency food to keep in the pantry. With the online gift card, your giftee will have the option of choosing our Emergency Meal Kits, which offers a 2-day, 3-person supply of gourmet, emergency food. Nothing says I care, like ensuring your loved ones have access to a warm meal when they need it most. 
Nix Decision Fatigue
Our gift cards will also help you kick decision fatigue in the bud. Instead of browsing for hours online, trying to make a decision about what outdoor gift someone would or wouldn't like, simply purchase one of these holiday gift cards for each of your loved ones. This will let you check off every name on your list in a matter of minutes! From meal kits, gear, entrees, breakfasts, and dessert options galore, you get to let the giftee make the decisions for what they want! The only decision you need to make is how much you'd like to give. Our holiday e gift cards are available in $10, $25, $50, and $100 denominations. Each e gift card is valid online only at BackpackersPantry.com, and does not stack with any discount codes, unless otherwise stated. 
Skip The Shipping Hassle
Perhaps the best part about choosing a Backpacker's Pantry e gift card is not having to deal with shipping delays or lost packages. Once you purchase an outdoor gift card, you will receive an email confirmation with a holiday gift card code. You can either print and share this e gift card code with the outdoor enthusiast in your life or use it yourself at online checkout. It's as easy as that!
An Outdoor Gift Idea for the Holidays
Don't spend hours sifting through countless gift guides to find backpacking gifts for your loved ones. This year, keep it simple by giving the outdoors enthusiasts in your life the gift of adventure with a Backpacker's Pantry online gift card. 
---