The 8 Best Places To Do A Hut or Yurt Trip This Winter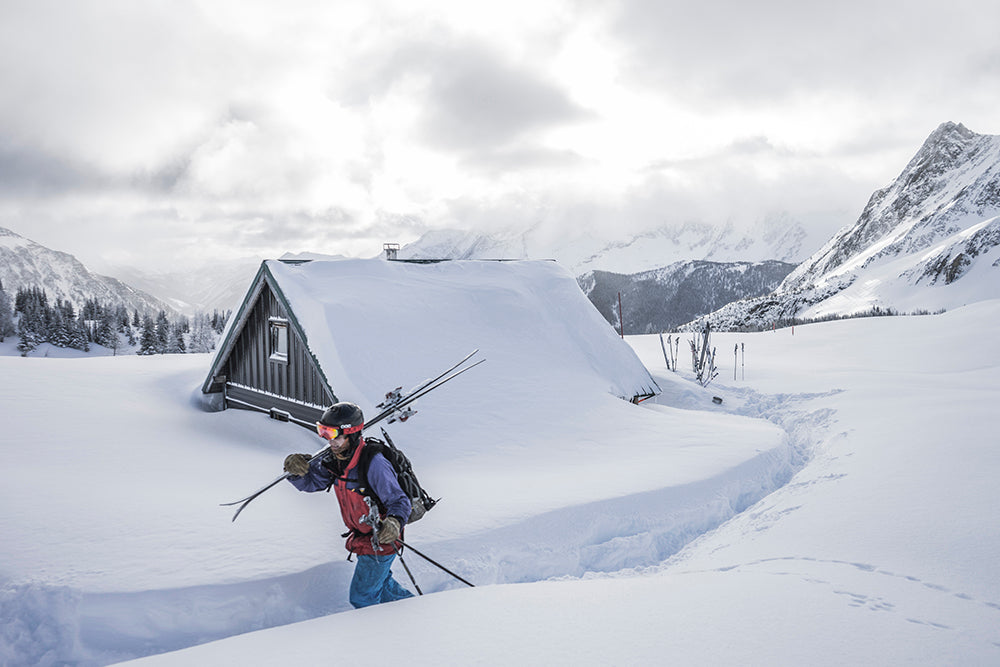 If you're looking for the ultimate backcountry skiing experience this winter, a hut trip should be very high on your list. No matter whether you're a newbie who just bought their first touring bindings, or an experienced backcountry skier with hundreds of ascents under your belt, a hut trip simplifies the best parts about human-powered skiing down to their simplest essence. Hut trips are the ultimate way to unplug from day to day life and just focus on the skiing.
There's something really special about packing your bags for an adventure where the only agenda is waking up high in the mountains, climbing mountains, and skiing back down until you need to stop to eat. No traffic, no worries about finding a parking spot, no external noise, just your group and the mountains. This list is just a few of the many, and in our opinion, some of the best backcountry huts and yurts out there.
The Best Ski Hut Experience: Fowler-Hilliard Hut
If you're looking for the quintessential hut skiing experience, Colorado is a great place to start. They're blessed with one of the most robust hut networks in the US, thanks to the 10th Mountain Division's huts. The 10th Mountain Division Association runs a network of 13 huts, with something for everyone. The Fowler-Hilliard Hut is one of the most popular huts for good reason, it's set on a ridgetop, with incredible views of the Elk mountains. And unlike some hut options that require long approaches to good skiing, there's a massive bowl right out the hut's front door. That means you've got lap after lap of incredible skiing, right at your fingertips. It's 5 miles, and 2500 feet of climbing to reach the hut, and snow machines are not allowed, so make sure you're in shape before visiting!
The Best Hidden Gem Hut: Fishhook Yurt
Idaho's Sawtooth range is often overlooked, but one visit to the Fishhook yurt and you'll be a convert. The Fishhook yurt offers the rare combination of great, mellow terrain for non-skiers, as well as great access to massive peaks. That makes it perfect for mixed groups of skiers and snowshoers. But that doesn't mean the skiing is boring. No, in fact, it's world-class, if you're feeling bold, you can even access one of the 50 Classic Ski Descents of North America from this hut. And the Fishhook yurt is very easy to access, it's a mostly flat four mile walk in, with less than 500 feet of climbing. If you're looking for a mix of big, rowdy mountains, and mellow but beautiful terrain, the Fishhook Yurt has you covered.
The Best Backcountry Yurt: Bell Lake Yurt
Bell Lake Yurt might just be an hour and a half from a major airport, but it feels miles away. This is one of Montana's premier yurt destinations for good reason. You can book an avalanche class that's based out of the yurt, pay for a fully guided ski experience, or book it for your private group, whatever floats your boat. And the terrain accessible from the yurt is incredible, with everything from steep couloirs, to mellow, rolling terrain. There's a reason this yurt sells out so fast, it offers a unique experience. And, Mountain Alpine Adventures offers a snowmobile shuttle for the first few miles into the yurt, so you only have to skin about 2.6 miles to access it.
The Best Hut For Your Bucket List: Bill Putnam (Fairy Meadow) Hut
Booking:

Lottery opens in early August 
Location:

Near Golden, BC, Canada
The Bill Putnam (Fairy Meadow) hut is a bucket list destination for hundreds of skiers and snowboarders. And it's famous for good reason. Few huts offer the incredible experience, and absurd terrain that the Fairy Meadow hut can boast of. There's a lottery system to get a spot at the Fairy Meadow hut, so get your name in early. From the hut's front door, you can ski everything from mellow trees to massive glaciated peaks. The hut sleeps 20, and is accessed via a helicopter ride. While some of the huts on this list are a little primitive, the Fairy Meadow hut offers all the amenities you could ask for, including a sauna. This hut is special for a reason, go experience it for yourself.
The Best Hut For Beginners: Horseshoe Yurt
The Horseshoe Yurt is a relative newcomer, situated on property that the Forest Service recently acquired. The area was partially developed, so there are road grades up into the mountains from the yurt, making it easy to cross country ski, fat bike, or backcountry tour from the yurt. It's located very close to the parking lot, making it great for less experienced skiers, and you've got access to the heart of the Big Hole Mountains, rife with great, undiscovered terrain, and incredible views.
The Best Backcountry Hut on the East Coast: Zealand Falls Hut
If you're looking for a hut experience in New Hampshire's White Mountains, look no further than the Zealand Falls Hut. It's about 6.7 miles from the trailhead, and offers great glade skiing, or good access to bigger terrain if you're feeling ambitious. Wood fired stoves keep it cozy, and the surrounding area offers absurd views of the Presidential Range. If you're looking for a great hut experience on the east coast, the Zealand Falls Hut is a great choice.
The Most Refined: Joe Dodge Lodge
If you're familiar with backcountry skiing on the East Coast, you've surely heard of Tuckerman's Ravine. It's a test piece of eastern skiing, both in the winter, and late into the spring. But, the lesser-known secret of the area is the Joe Dodge Lodge. The Joe Dodge Lodge is a hut that offers great access to Tuckerman's Ravine. So skip the long drive in everyday, and camp close to one of the most storied slopes around. It's accessible by car, so it's great for mixed groups, and offers a more refined experience than many other backcountry huts.
The Best Ski Hut in Utah: Snorkeling Elk Yurt
Booking:

Book at least 24 hours before your stay
Website:
Skitushar.com
Location:

Fishlake National Forest, UT
Snorkeling Elk Yurt might just have the best name out there, and the experience lives up to its name. If you love Utah skiing, but hate competing with the crowds in Little Cottonwood, the Snorkeling Elk Yurt offers a great reprieve. It averages 450 inches of snow annually, and great ski terrain just minutes from the door. There's plenty of mellow meadow skipping to be had, or you can head up to Delano Peak for bigger lines. It's fully accessible via snow machine, or by foot, and is a great encapsulation of some of the best things about skiing in Utah.
Wildest Backcountry Experience: Jumbo Pass Cabin
If you're looking for a wild backcountry experience in the depths of the Kootenays, the Jumbo Pass Cabin is for you. It's nestled amongst commanding mountains, with incredible views of massive glaciers and sheer rock faces. This is a year-round destination, with beautiful alpine meadows in the summer, and incredible tree and big mountain skiing in the winter. It's hard to access, with 17 km of sled access, followed by 6 km of skinning, but all that work pays off with an untouched, incredible backcountry experience. If you're looking to truly escape, into postcard-worthy mountains, this is the hut for you.
Booking & Planning
Of course, you're not alone in wanting that sort of escape. Hut reservations are in high demand, and often sell out quickly, so it's a good idea to keep an eye on booking dates, and set a calendar reminder so you can reserve your days as soon as they're available. It also pays to be flexible. Often, in-demand huts will have last-minute cancellations or openings, so if you can quickly rally and get out there, you can often luck into a spot. Likewise, each hut or yurt is different, so make sure to look at each hut's individual packing list to make sure you're fully prepared for the best days of backcountry skiing of your life. And don't forget the food! Our favorite part. Here's some recommendation for hearty winter meals to keep you fueled. 
Additional Huts, Yurts & Resources
---