Expert Tips to Keep Mosquitoes, Deer Flies and Other Bugs Away When Hiking and Camping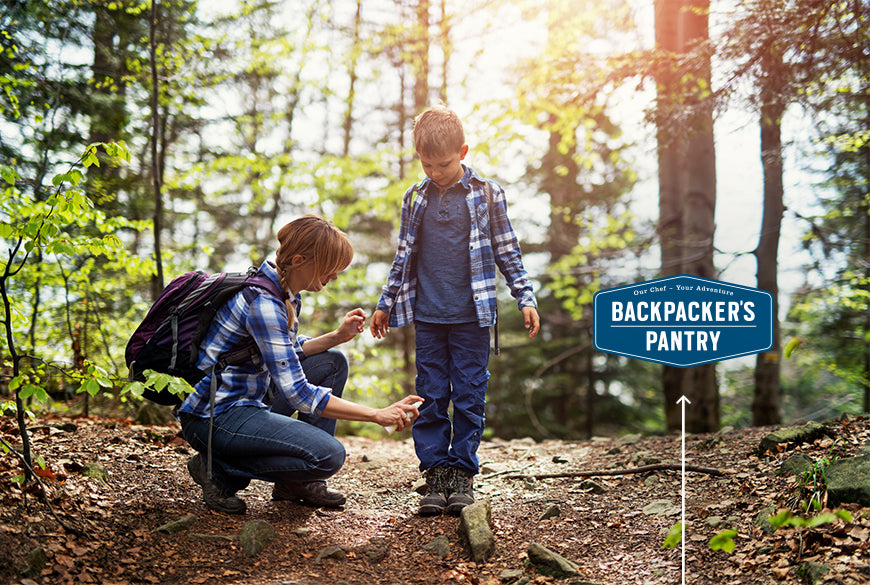 Bug Repellent for your Hiking and Camping Trips
Nothing ruins a hike or camping trip faster than blood-thirsty bugs. And while we've shared some of the best all-natural alternatives to traditional insect repellent here on the Backpacker's Pantry blog, sometimes you need something a bit stronger.
Here's how to keep mosquitoes, deer flies, gnats and other bugs at bay so you can focus on your trip.
Try old-fashioned DEET to deter bugs
DEET is the world's leading insect repellent, and for a good reason — it works really well to deter mosquitoes, ticks and some flies.
You can purchase DEET in concentrations from 10-100%. The main difference between concentrations is how long the protection lasts. Controlled-release formulas are another option. These products include 20-30% DEET that protects for up to 12 hours, and they're a great choice for anyone who would like to control the amount of DEET they are exposed to.
Some people worry that DEET can cause cancer. However, DEET has been classified by the Environmental Protection Agency (EPA) as "not classifiable as a human carcinogen." That means there isn't enough evidence to conclude that it does or does not cause cancer. Many people use DEET to repel insects without adverse effects, but the decision is up to you.
Note that DEET can damage plastic and synthetic materials. Wash your hands thoroughly after using it and avoid getting it on your gear.
Treat your clothing with permethrin
Permethrin is an insecticide, which means it kills bugs on contact. You can purchase it and treat your clothes at home, or buy specific outdoor clothing that has already been treated with permethrin.
The key is to purchase permethrin that has been specifically formulated for clothing, then carefully follow the instructions on the label to treat your gear and clothing.
Keep deerfly patches handy at all times
If you've ever hiked or camped somewhere with aggressive, biting deer flies, you need deer fly patches. DEET won't do anything to deter deer flies, but these patches are a serious game-changer when it comes to protecting yourself.
These odorless strips attach to the back of your hat. Deer flies get caught in the sticky trap so that you can carry on with your adventure. You can find them online and at local outdoor retailers.
Additional products to try to keep bugs at bay
There are so many ways to repel bugs during your next hike or camping trip. If you want some extra protection, try some of these products:
Mosquito head nets

Citronella candles

Thermacell repellents

Dryer sheets that contain linalool (pop one in your pocket)

Use LED lights at night (insects are less attracted to this type of lightbulb)

Wearable insect repellents, like wristbands and clips

The mix of repellants you'll need will depend on several factors, like where you're exploring and the time of year. It never hurts to have options, so consider packing a few extra items in your car for a bug-free trip, just in case. 
Backpacker's Pantry provides lightweight, vegan backpacking food for outdoor enthusiasts of every level and background. Browse our convenient gourmet food for the trail.
---