BACKPACKER'S DELIGHT: A DEEP DIVE INTO OUR RISOTTO WITH CHICKEN WITH CHEF SORAYA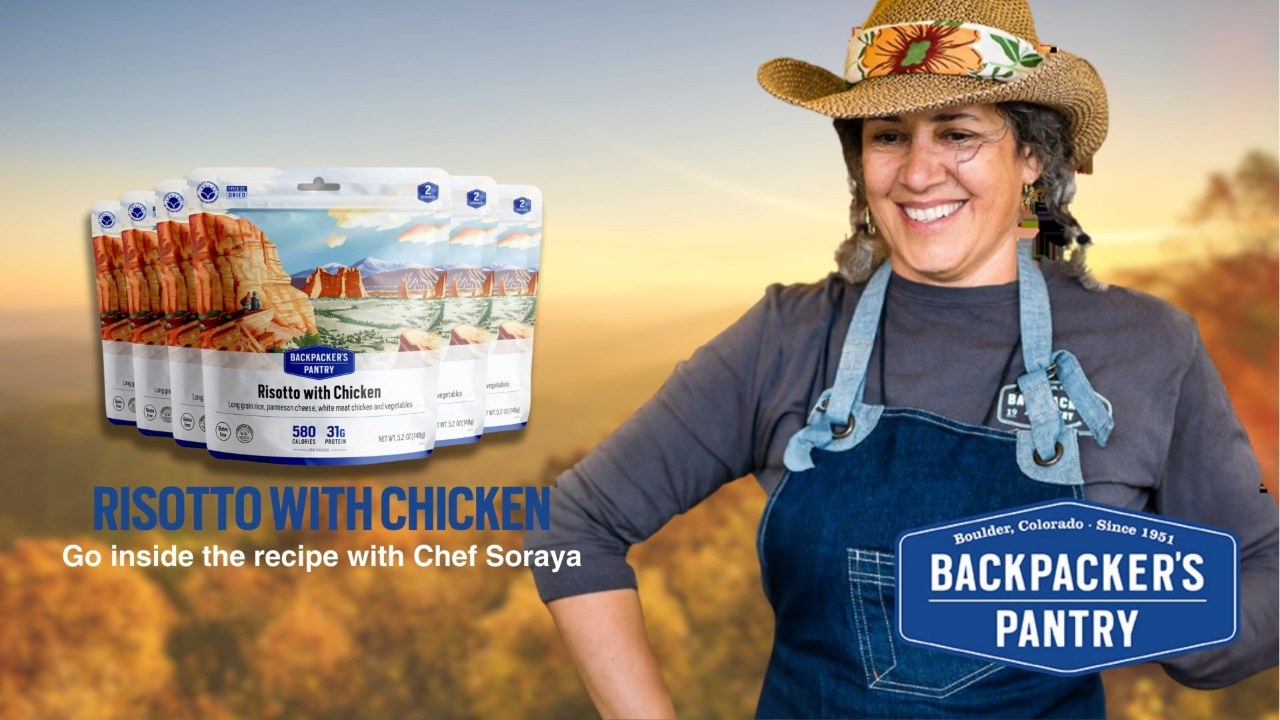 Learn about our Risotto with Chicken from Chef Soraya
As the leaves begin to change and the air becomes crisp, there's no better time to embrace the cozy comforts of fall. And what better way to do that than with a hearty and delicious meal that warms your soul? Enter Backpacker's Pantry Risotto with Chicken, a comforting classic that's perfect for chilly autumn days. 
Why Chicken Risotto?
1. Warmth and Comfort:
When the air starts to cool, there's nothing like a warm, comforting meal to lift your spirits. Backpacker's Pantry Risotto with Chicken offers a delicious combination of creamy risotto, tender chicken, and savory seasonings that will not only warm you up, but also make you feel at home even in the wilderness.
2. Easy Preparation:
When you're out in the woods, simplicity is key. Backpacker's Pantry meals are known for their easy preparation, making them the perfect choice for adventurers who want to focus on the experience rather than complicated cooking. With just boiling water and a few minutes of rehydration, you'll have a hot, delicious meal that is ready to enjoy.
3. Nutrient-Rich Ingredients:
Backpacker's Pantry Risotto with Chicken is packed with essential nutrients, including high-quality protein, carbohydrates, and a mix of vitamins and minerals. After a long day of hiking, this meal will replenish your energy and keep you fueled for any and all adventures to come.
From the Expert's Kitchen: Chef Soraya's Take
To truly appreciate the flavors and preparation of Backpacker's Pantry Risotto with Chicken, you'll want to hear from Chef Soraya herself: 
Fall Backpacking Tips
Before you head out to the wilderness to enjoy your Backpacker's Pantry Risotto with Chicken, here are a few additional tips to make the most of your fall adventure:
Layer Up: Fall weather can be unpredictable. Pack layers of clothing to stay warm and comfortable in varying conditions.

Plan for Sunset: The fall sunset views are breathtaking. Make sure to plan your hike so you can fully enjoy that magical moment when the sun dips below the horizon.

Fall Foliage Photography: Don't forget your camera! Capture the stunning fall foliage and create lasting memories.

Safety First: As the temperature drops, be prepared for potential temperature changes. Ensure you have appropriate gear for cold nights.
Conclusion
Backpacker's Pantry Risotto with Chicken is the perfect meal companion for your autumn adventures (or cozy nights by the fireplace). With its warmth, ease of preparation, and nutrient-rich ingredients, it will keep you energized and satisfied throughout your journey. Embrace the beauty of fall and the joys of outdoor cooking with this delightful meal. Happy trails!
---