What Is Trail Magic? Supporting Thru-Hikers on Their Long Distance Hikes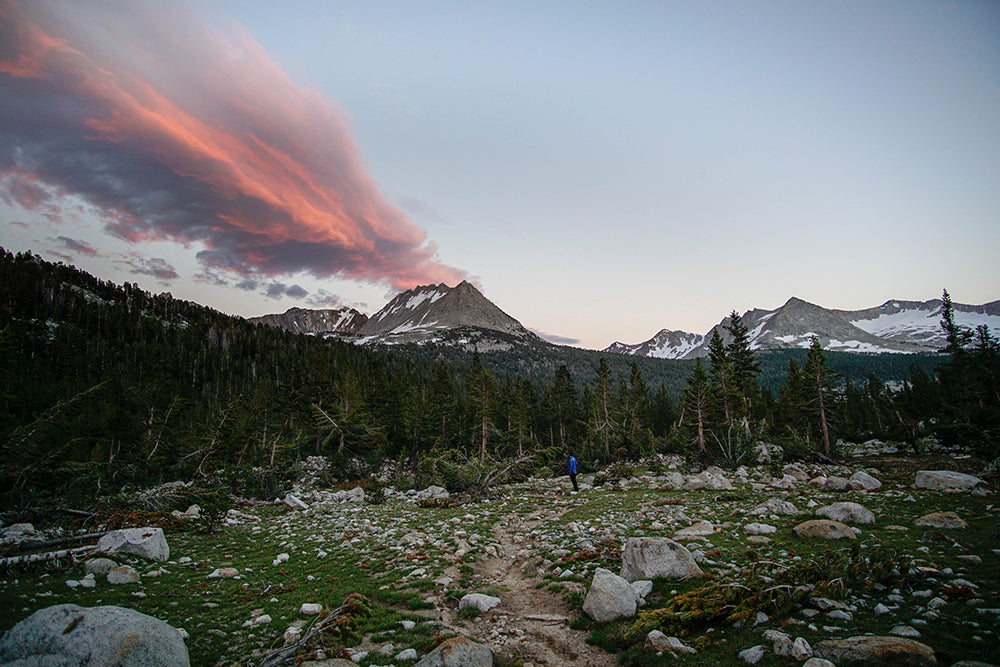 Every year, more and more people decide it's time for a thru-hiking adventure; whether it be a work sabbatical, a post-college trip to "figure out what's next" or in pursuit of accomplishing a lifelong dream. Thru-hiking is a term, as explained by REI Co-op as: "An end-to-end backpacking trip on a long-distance trail like the Appalachian Trail or the Pacific Crest Trail. More than 2,100 miles long, the A.T. runs from Georgia to Maine, while the PCT, at more than 2,600 miles long, runs from Mexico to Canada. The newest trail in this class is the Continental Divide Trail (CDT), which rambles for more than 3,100 miles along the crest of the Rocky Mountains."
If you've ever gone on a multi-night backpacking trip you have some idea about what a thru-hike may entail. Essentially, take that 4-day hiking stretch you did and imagine doing it over and over for 4-6 months straight. Everything you need for those months is carried on your back (hence the need for ultralight gear) except for the times you go into "trail towns" or "resupply towns" to get more food for the next stretch of trail, to fix or buy gear, enjoy a big, greasy well-earned meal, and maybe, even take a shower.
There is certainly a physical challenge to thru-hiking. Many hikers, as they get in "trail shape" will be hiking anywhere between 20-30 miles a day. Ensuring you keep your body healthy and injury-free is certainly a top concern. However, beyond the physical challenge is the emotional/mental test. Thru-hiking can sometimes be lonely, it can be daunting, uncomfortable, monotonous and difficult for a plethora of reasons.
Therefore, on a long journey, like a thru-hike, there's nothing like a little bit of unexpected love. This guide will help explain what "trail magic" is, as well as how to provide trail magic for a hiker - everything from what to send, how to time your package, and how to send it.
What is "Trail Magic"?
"Trail magic" is the term the thru-hiker community uses to describe unexpected acts of kindness and generosity for hikers on long-distance trails. Trail magic can take many forms, such as finding an unattended cooler filled with snacks and drinks on a hot day, a stranger offering a ride into town for resupply or a warm meal, or a local resident providing a place to camp or stay for the night.
These acts of kindness can be a huge morale booster for hikers who are often tired, hungry, and facing the challenges of the trail. Trail magic is a way for people to show support and appreciation for those who are hiking these long trails and can often be one of the most memorable and cherished experiences for hikers on the trail.
So how do you provide some trail magic? We'll show you.
Step-by-Step Guide for Sending Trail Magic
Determine the hiker's estimated location: All of the long-distance trails have mile markers. Contact the hiker directly (or sometimes, hikers keep a trail blog or post on social media) to get an idea of where (what town or mile marker) they are at on the trail.
Choose a resupply location: Once you have a general idea of where the hiker is on the trail, you'll need to choose a resupply location for the package. Many hikers plan their resupply strategy in advance and have specific locations where they'll pick up packages, such as post offices, hostels, or outfitters. Ensure your hiker has plans to stop at a certain trail town (resupply spot) before mailing your package.
Time the package: Make sure this package is timed to arrive with plenty of "wiggle room" to get there before the hiker. Most resupply locations will hold packages for a few weeks (General Delivery to US Postal Locations hold boxes for up to 30 days). This is important for a few reasons. You don't want your hiker to arrive and have to wait around for your box. Also, hiker's plans change (whether it be for injury, fire closures, weather, etc.), meaning your hiker may arrive sooner than they expected.
Address the package: When addressing the package, make sure to put "Please hold for PCT hiker" and their full real name (not their trail name) and their "Estimated date of arrival". You should also include your return address and contact information.
Prepare the package: Pack the package with the items the hiker requested or that you want to send. As much as it will be tempting to load the box with Snickers and Tasty Cakes (those should be included too), what most hikers really crave is nutritious food, which is hard to get on the trail. Sending Backpacker's Pantry entrees or breakfasts is a hiker's dream as it is unlikely that they are eating healthy freeze dried meals for every dinner or breakfast. 
One important note - don't go crazy! Consider sending them an assortment of food for 3-5 days because remember, they need to carry everything on their back. Sending a pack of 20 Snickers bars from Costco may seem like a good idea at the time, but that's too many Snickers for anyone to consume in one week (not to mention heavy!).
Sending the package: You can send the package through the US Postal Service or a private carrier such as FedEx or UPS. Be aware that the post office may have limited hours or be closed on weekends and holidays, so plan accordingly. Non-Post Office locations may also only accept certain carriers, so contact them ahead of time, or look online to make sure you choose the right mail carrier to send your package.
Notify the hiker: Once you've sent the package, notify the hiker of the package's estimated arrival date and pick-up location. You can do this via email, text, or a phone call.
Resupply Points & Trail Towns
There are trail organizations with websites that can help you figure out common refuel points. For the Pacific Crest Trail, the PCTA.org is a great resource and has a list of all resupply locations (with mile markers), broken down by state.
For the Appalachian Trail, a great website to reference is AppalachianTrail.org. Another great resource is The Trek and in one of their articles, they list out the Best Appalachian Trail Resupply Points with mile markers and notes about each resupply location.
Finally, for the Continental Divide Trail, the main website to check out is ContinentalDivideTrail.org. Another great resource is Halfway Anywhere and in their 2022 Thru-Hiker survey, they list the results of the 'most suggested mailing resupply locations'.
Final Thoughts
One final note about sending trail magic is that it's important to understand that sending packages to PCT hikers can be challenging due to the remote locations and limited transportation options. This is also what makes them so special! Before sending a package, make sure to communicate with the hiker and confirm their location and resupply plan to avoid any delays or missed packages.
Imagine – a loved one who is over 3-months into their walk, with over 1,000 miles down, sitting down atop a mountain, looking out at the sunset while spooning hearty, protein-packed Pad Thai with Chicken into their mouth after a 32-mile day. Now THAT is hiker heaven!
---