Tips for Sending Care Packages to Deployed Soldiers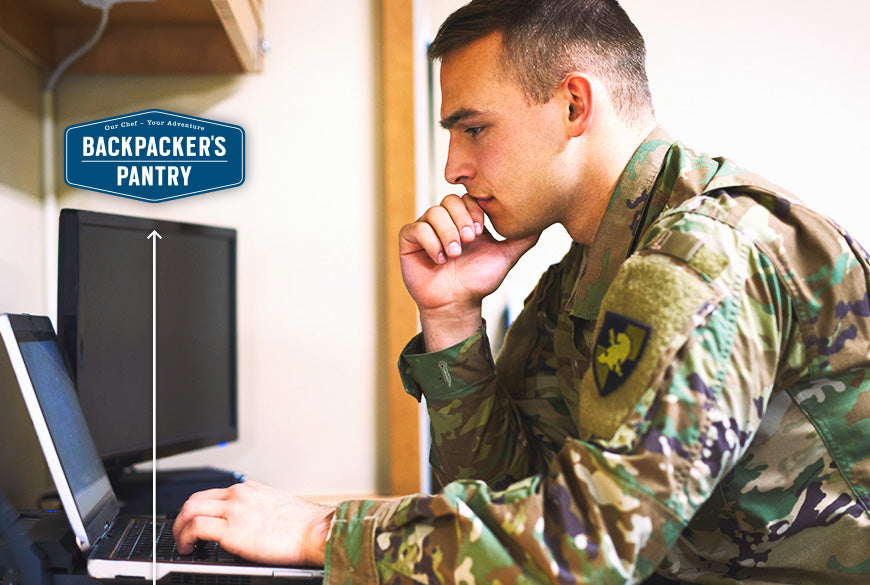 Care Packages for Troops: Things You Should Know
A care package can make all the difference for a homesick soldier deployed overseas. Before you send anything, however, there are a few things you should know. Here are some tips for what to send — and what not to send — a deployed service member in a foreign country.
Sending Food
While deployed soldiers may crave a home-cooked meal, it's not easy or advisable to send perishable food items abroad. Fortunately, there are ways you can package and ship the flavors of home. Backpacker's Pantry provides a diverse menu of chef-created, freeze-dried meals for every appetite. A soldier only needs to add hot water to enjoy a delicious wholesome meal that conjures images of home.
Because they're lightweight and well-contained, freeze-dried meals allow you to fill your care package with much more content. While you might only be able to send a few cans of food, you can send dozens of two-serving, freeze-dried meals at only a fraction of the weight. 
With high-protein, vegan, and gluten-free options, Backpacker's Pantry meals are the perfect solution for soldiers who don't have a lot of dining options tailored for their specific dietary constraints. It's also a great way to provide the familiar, heart-warming taste of home for soldiers who have grown tired of eating the same bland MREs. You can even send cold treats that won't melt in warm conditions.
Other Popular Items
Since they are on their feet a lot, soldiers tend to appreciate having foot powder and clean socks. Although they aren't a necessity, lip balm, Vicks VapoRub, high-quality body wash and pain-relieving topical cream can also be a real luxury. For soldiers exposed to wind and sand in the Middle East, small bottles of glass cleaner and lens cleaning cloths are handy items that can be used to clean glasses and goggles. Sunscreen and baby wipes are also popular items among deployed service members. 
Many soldiers request hot sauce and flavoring packets that make water taste like strawberry, lemon or orange. Sentimental items can also make all the difference for a soldier who has spent months away from home. While email can get the point across, consider sending a handwritten letter to make an emotional connection. You can also help enhance a soldier's downtime by sending along games, playing cards and gift cards that will allow them to purchase video games on their smartphones. 
Restricted Items & Things to Avoid
Certain items are prohibited by the U.S. postal service, whether you're sending a package across the city or half-way around the world. While some of these may seem obvious, others might surprise you. Make sure to look over the USPS shipping restrictions before sending your care package. 
It's also important to bear in mind that many countries don't share or agree with our culture. When sending packages to deployed soldiers, it's best to be conservative or investigate which types of items might get confiscated or land your soldier in hot water. Some examples include: 
Coffee
Cigarettes
Pork products or byproducts
Unauthorized political material
Radio transmitters or receivers
Religious items in bulk (one bible is fine; an entire crate of bibles is not)
Images that might be considered sexually suggestive, obscene or immoral
Printed items considered contrary to the Islamic faith
Printed items considered offensive to Muslims or Arabs
In addition to these considerations, remember that certain countries have regulations that forbid certain items and products. The U.S. Post Office has a comprehensive list of restricted and prohibited items by country. Spend some time reviewing this resource to avoid any expected problems.
Packing Tips
You can avoid common shipping issues by keeping items in their initial packaging if possible. Use plastic bags with zip-style closures for homemade items to keep out the rain and sand. You should also consider sealing the bag with clear packing tape if you're shipping a liquid (eye drops, shampoo) or items that are likely to drip or melt (chocolate, deodorants, lip balm) to keep them from ruining other items in your box.
Although home-baked items are frequently requested, they can be difficult to ship. It helps to seal home-baked goods using a heavy-duty "seal-a-meal" system to help prevent spoilage and retain freshness. While brownies and cookies tend to hold up ok, muffins and banana bread tend to get moldy before they arrive. It's also generally best to avoid combining toiletries with food items; many deployed soldiers report that this can make the food taste like deodorant, shaving cream or soap. 
To avoid potential hold-ups, try to limit your care package to the size of a shoebox. Use a sturdy cardboard box and seal all openings with clear packing tape. Avoid using masking or duct tape since these do not hold up as well in extreme conditions or hot climates. 
When addressing your package, use large, block print for your soldier's address. Use a dark permanent marker and cover the address with clear packing tape to prevent smearing. Bear in mind that care packages and mail that are sent without a name and company association will not be delivered. The military also asks that people avoid using Styrofoam pellets (packing peanuts) in their care packages because they are very difficult to clean up due to static cling. 
For more military care package tips, consult these resources from the USPS and Military.com. If you'd like to support the troops by sending a care package to a soldier you don't personally know, the U.S. DoD provides a list of non-profit organizations that offer a variety of care package services.
---