The Best Freeze-Dried Camping Food Hacks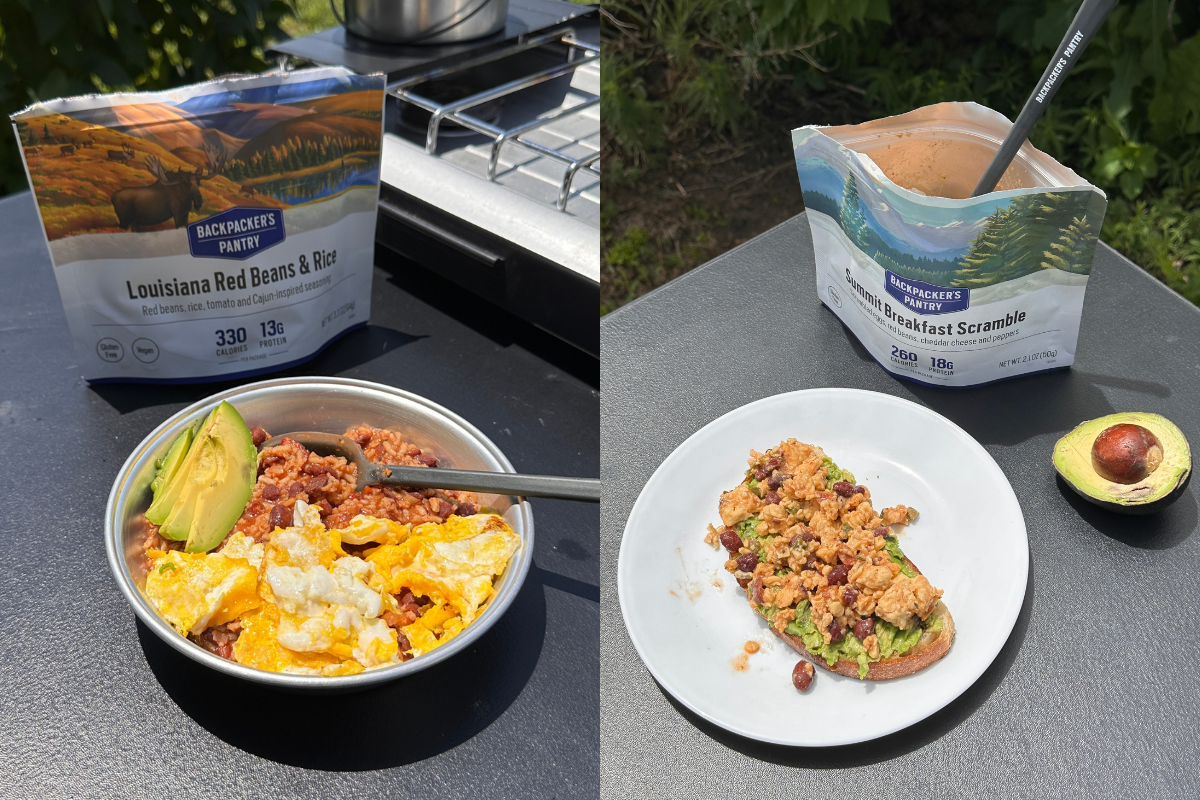 These days, it's pretty easy to find a freeze-dried meal to satisfy you on every kind of outdoor adventure. Even so, it can be fun to customize your meals and make them your own- whether that's for added calories or nutrients or just for the fun of it. Here are a few of our favorite ways to take our freeze-dried camping food to the next level. 
Breakfast
Turn dinner into breakfast: We all love breakfast for dinner. Its counterpart, dinner for breakfast, deserves the same hype. Pair any quinoa or rice and beans-based dish with an egg for an easy, restaurant-quality breakfast plate. You can dress it up further with avocado or salsa, and even throw it in a tortilla to make a breakfast burrito you won't be disappointed by. 
Breakfast burritos: Speaking of breakfast burritos, any freeze-dried egg scramble will make the perfect filling. These burritos are great because of how customizable they are- we love adding avocado or bacon bits, but the possibilities are endless. They also make a fun do-it-yourself family-style breakfast option- just prepare a couple of scrambles, set out your tortillas and toppings, and let your family or friends go crazy. You can do the same with breakfast tacos as well. 
Toast it: Pack some extra carbs into your breakfast by eating your egg scramble on toast. Any type of toast will do- plain, buttered, avocado... you name it! No way to toast your bread in the backcountry? Try a breakfast sandwich instead. 
Elevate your oatmeal: When on trail, there's a pretty good chance you've got some extra gorp in your pack somewhere. Trail mix, nut butters, dried fruit, seeds, nuts, and chocolate all make excellent additions to oatmeal breakfasts. You can also mix your favorite protein powder into your oats for that extra boost of energy! 
Lunch/ Dinner
Put it in a pita: Elevate any curry-style dish by eating it with pita bread. Bonus points if you warm your pitas over the campfire first! This is also a great way to add quick carbs or extra calories to your meal. 
Burrito style: Again, any quinoa, rice, or bean-based dish is going to taste great inside of a burrito. You can use all of the same toppings, but instead of eggs, try adding shredded cheese or an extra source of protein. A well-rolled burrito is also an easy thing to eat on the go during those extra-long days on trail. Again, you can always swap tortillas for taco shells if you'd like. 
Nacho style: If you're feeling a bit burritoed-out, try making nachos instead. Anything you can put in a burrito will likely pair just as well with chips. And again, the toppings are totally customizable. This is a super easy one to make over the campfire as well- you can use any camping pan or some well-shaped tin foil to warm your cheese and toppings over chips. 
Use your pantry: There are infinite ways to personalize your camping food with ingredients you likely already have on hand. Add sour cream, shredded cheese, or green onions to freeze-dried chilis. Chop a hotdog into your mac and cheese for a taste of childhood nostalgia. Mushrooms or asparagus make great additions to risottos or cheesy pasta dishes. Add olive oil or tahini for extra calories, or hot sauce for an extra kick. The possibilities are truly endless. 
Dessert
Get fruity: If you're car camping or enjoying your freeze-dried desserts at home, don't miss the opportunity to take advantage of your access to fresh produce. Chocolate-based desserts or cheesecakes pair wonderfully with fresh berries. This is especially fun in the summertime when berries are in season! 
Take advantage of your freezer: Similarly, when on trail, you won't have access to your favorite perishable summertime treats. This is all the more reason to enjoy them while you're home or in the camper! Most freeze-dried desserts- especially fruity crisps- are excellent when topped with a scoop of vanilla ice cream or a large dollop of whipped cream (or both). 
Make it fancy: If you're in the mood to do a little bit of extra cooking, make easy caramelized bananas by sautéing banana slices in butter, brown sugar, and a sprinkle of cinnamon for about ten minutes. Eat them on freeze-dried crème brulee, chocolate-based desserts, or cheesecakes for a truly elevated dessert experience.
Of course, these are just a few ideas- when it comes to spicing up your favorite freeze-dried camping meals, the possibilities are truly endless. If you try any of these food hacks or come up with any of your own, make sure to let us know how it went! 
---