On The Water With BP's Kurt Watkins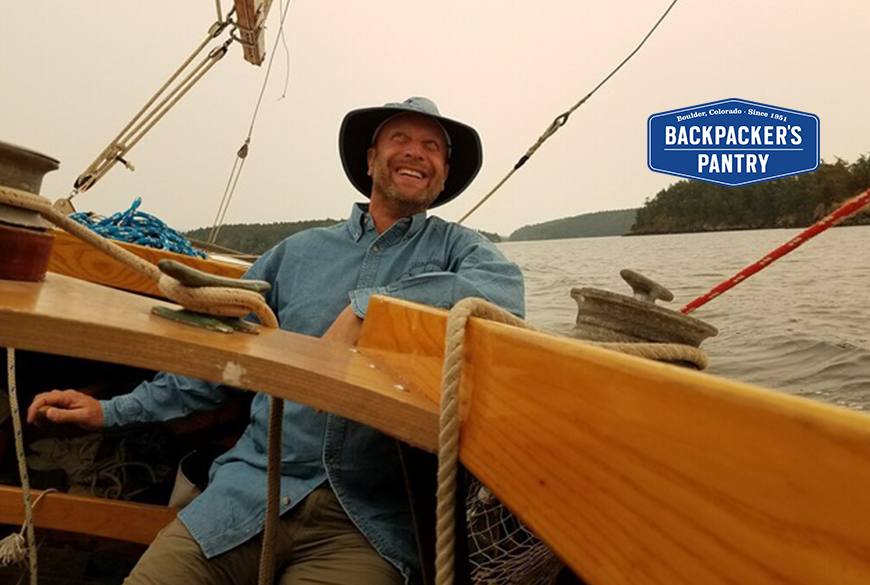 PC - Alex Simanis. Deer Harbor, WA
Inside The Pantry -- Team Spotlight
Kurt Watkins is one of the amazing Sales Representatives here at Backpacker's Pantry. He is an incredibly kind, charismatic individual who genuinely has a love and passion for good food and good adventures -- specifically, sailing adventures. 
Below you will find our Q & A with Kurt. He shares his knowledge about the sport of sailboat racing, the importance of nutrition on the water, and why he recommends bringing Backpacker's Pantry for fuel!
Kurt's Favorite Boat To Sail On
Q1: How did you get into sailing?
Kurt:
I am lucky in that I learned and to sail as a child with my brothers and parents. I did not take to sailing lessons much because I was intimidated by small boats, higher winds and capsizing but racing and a competitive human nature helped to quell that fear. I learned to race as a young teenager on family racer/cruiser type boats more than dinghies. I became comfortable on dinghies much later as an adult although any boat on any water can still scare the daylights out of me! Many believe that all the best sailors start with dinghies but I contend that learning on bigger boats can work too. Bigger boats felt much safer to me and being comfortable with the whole situation allowed my competitive spirit to grow.
Q2: What is sailboat racing like?
Kurt:
Compared to most other sports, sailing is very slow. The very fastest boats now of course are fast, like over fifty knots or almost 60 mph, but most of my life I have sailed at under 10 knots. Compared to an Indy car that goes 240 mph though, sailing is still slow. Very small speed differences separate faster boats from slower boats. A speed difference of just .01 knot can allow one boat to get ahead of another which may allow the faster boat to be in a controlling position by interfering with the wind of the competition. Finding these small speed differences requires extra concentration, skill, and often money. This is similar to when a backpacker wants to shave weight out of their backpacking kit. Saving mere grams can cost a fortune.
Sailboat races are governed by many rules to allow one boat to have the right of way over another in every instance where a collision is possible. I love that the rules of sailboat racing are largely self-policed. Paul Elvstrøm, one of the World's best sailors once said that, "You haven't won the race, if in winning you failed to win the respect of your competitors."
Most races have a timed start and a series of horns and flags to alert the fleet to the start time, which allows racers to cross the start line with speed at exactly the right time, not too early. Finish times are recorded and elapsed times are calculated for each competitor down to the second. There are many handicap racing ratings that attempt to equalize unequal boats so that they can race against each other fairly - some boats are always faster than others but handicap systems allow a smaller boat to race fairly against larger boats. 
Race courses may be around a point of interest like and island or a mark in the distance like the Transpac race from California to Hawaii. Other races go around a predefined course of buoys which are set up similarly in open water in every sailing venue around the world. This helps to standardize the race experience as in Olympic sailing. A newer style of racing is Record Breaking racing where a boat could start at anytime and attempt to break a record around an island or across a pond or ocean. Sailing fast through the water is important but so too is sailing the fastest course, so navigation and routing play an important part of the winning equation.
Q3: Why is nutrition so important when you are sailing?
Kurt:
Energy. Sailors need to fuel their bodies to perform the tasks of sailing the boat. A combination of fresh, dry, frozen, and freeze dried food is likely to provide the best combination of nutrition for a cruise or race. Freeze dried food is an excellent addition to most any sailboat or powerboat whether racing or cruising short or long distances. Sailing and sailboat racing is as complex as your mind can imagine. If you are well-nourished, your body and mind works better which might allow you to beat a competitor.
Q4: Why does Backpacker's Pantry make for great sailing food?
Kurt:
Like canned food, Backpacker's Pantry makes sense on a sailboat because no refrigeration is needed. On boat with a water maker there is a large weight savings with freeze dried food because you don't need to carry the weight of water - just like when backpacking. Our food is easy to prepare which comes into play in rough weather when the boat is pitching in waves. Plus, our packaging is waterproof and durable so the food is safe from getting wet. Backpacker's Pantry can also be eaten from the pouch, which means fewer plates or dishes are needed!
Q5: Which of the BP meals are your favorite to eat out on the water?
Kurt:
Our cereal-type breakfasts are great at anytime because they are easy on your stomach if you feel seasick and they can be eaten hot or cold. On a large boat with many crew, Backpacker's Pantry allows each crew member to eat what they choose - they do not all have to eat the same thing. Many racing sailboats have gimbaled MSR canister gas stoves and efficient pots for boiling water and a set of thermoses. That way they boil water when they can and  have the water available for hot drinks or food later. A small box thermos is excellent for preparing meals for larger groups - just empty the pouches into the box thermos, add the water, stir and wait. The box thermos does a great job of keeping the meal hot while it is rehydrating. Most race crews have one insulated cup for each crew member so every hot meal and drink is enjoyed from the same cup.
Q6: Is there anything else that you would like to share with the BP audience?
Kurt:
Sailboat racing is old. I cannot imagine a time when one sailor ever shared the same body of water with another sailor without the urge to race!
--
Shop Backpacker's Pantry's full selection of lightweight sailing meals. Wind or no wind, you need to eat!
---