Meet John Huston, Backpacker's Pantry's Newest Ambassador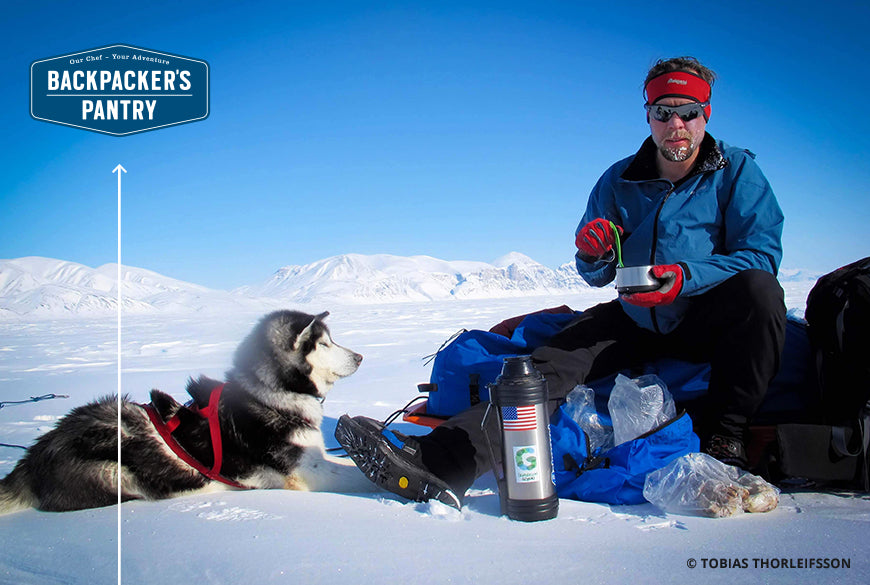 Meet John Huston, Backpacker's Pantry's Newest Ambassador
Introducing John Huston, Polar Explorer & Expedition Food Expert
The Backpacker's Pantry ambassador crew is an inspiring bunch — we've got photographers, backpackers, students, adventurous nomads, and weekend warriors. Everyone's background is a bit different, but they all have two big things in common:
A genuine love and respect for Mother Nature.

An appreciation for high-quality food that tastes great.
John Huston is the newest ambassador to join our mission to bring worldly cuisine to the furthest reaches of our planet (while doing everything we can to protect it). He's a professional polar explorer and veteran of the first American unsupported expedition to the North Pole, and he's going to play a big role in shaping future meals here at Backpacker's Pantry.
We're stoked to welcome him to the family, so keep reading to learn more about how John made a career out of polar exploration, eating during long expeditions, why it's so important to fuel your body properly, and some insider details about what this new partnership means for Backpacker's Pantry fans.
How does someone become a polar explorer?
"Polar explorer" might sound like a dream job for anyone who loves spending time in remote corners of the world (if you don't mind the cold, that is).
There's no single career path that will take you down the same road. In John's case, he began his outdoors career as an instructor and sled dog trainer at the Voyageur Outward Bound School in the Boundary Waters of northern Minnesota.
If you've ever been to the Boundary Waters, it's not hard to see why he fell in love with winter expeditions. This isolated stretch of waterways is stunning any time of year, but the beauty and harshness of winter can't be matched.
These type of expeditions don't just require grit and the right gear, either. Packing the right food is absolutely vital for success.
During polar expeditions, every calorie matters
John is passionate about food, particularly how it supports expeditionary life. Since most polar expeditions are around two months long, "We work really hard to get our food right without cutting corners. Our goal is always to put as many calories as possible in a small, lightweight package."
Whether you have a long thru-hike coming up, or need some ideas for your next backpacking trip in the high country, John has an endless database of tips that can apply to your endeavors, here are a few:
During periods of strenuous activity, your body might require double to triple its normal calorie needs. John has consumed up to 7,500 calories per day during some expeditions!

Slow burning calories, like fats, help you sustain energy. That's why John loves meals with real butter, like our Granola with Bananas, Almonds & Milk.

Without enough calories, your body can start breaking down, you can lose muscle capacity, and experience reduced energy levels when you need it most.

Pack foods that you actually want to eat. As John puts it, "If the taste isn't there, the fun element of eating in the backcountry goes away. It becomes a chore."
One of John's all-time favorite freeze-dried meals is our Beef Stroganoff... and any other meal with noodles. If a meal is creamy and has noodles, John is gonna be happy.
What's next for John Huston and Backpacker's Pantry
When it comes to expedition food, we're incredibly fortunate to have John's expertise. In the coming months, he'll be helping us test food and develop new lightweight, expedition-ready recipes specifically for extreme activities.
He'll also join us on the blog to share tips, tricks, and insights. Whether you're a weekend warrior who needs some insider knowledge about hiking and camping, or want to get a pro's advice on how food integrates into expedition life, John's knowledge can be a big resource for your outdoors pursuits.
We're all excited for this partnership to grow, and we can't wait to share more with the BPP community! Here's to a 2019 filled with lots of outdoor adventure (and plenty of high-quality calories to keep those adventures going).
---