Keep our Kids Wild: The Benefits of Exposing Children to Nature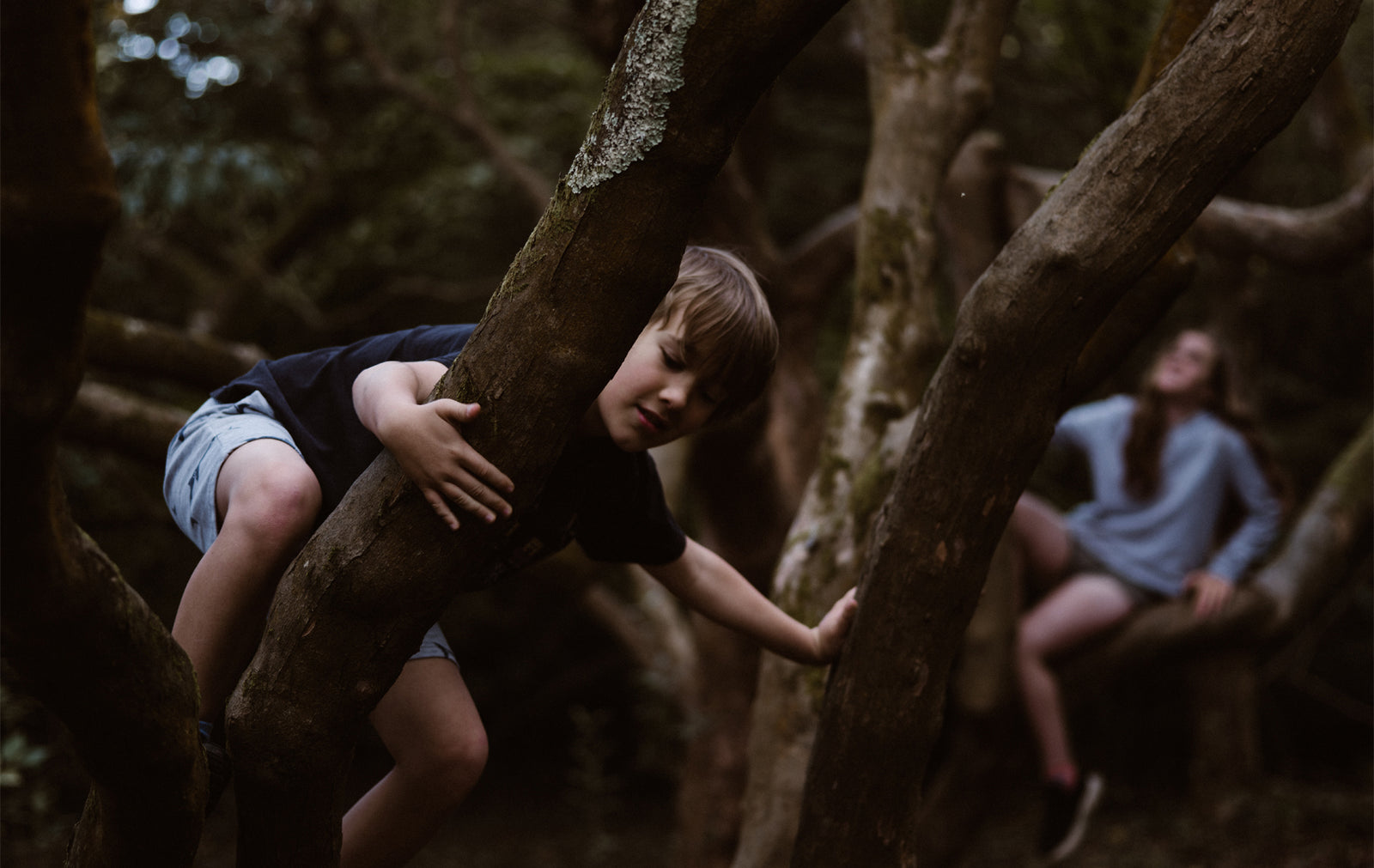 Exposing our kids to the outdoors has a positive effect on their overall emotional and physical development.
In a recent study by the Child Mind Institute, kids today average only 4-7 minutes of play time outdoors compared to over 5-7 hours in front a screen. Heading outdoors isn't just a good way to pull kids away from all the screens in their lives. Richard Louv's powerful book, "Last Child in the Woods: Saving Our Children from Nature-Deficit Disorder," breaks down the scientific benefits of introducing your kids to the wild even further. Children benefit from increased confidence, develop more nurturing characteristics, and even develop smarter problem-solving skills in their daily lives. The science also states that kids who spend time together in nature develop deeper and more meaningful friendships based on resourcefulness and creativity as opposed to physical or socio-economic similarities. There's even talk of better school report cards.
Our company President, Soraya Smith (above right), fueling up for adventure in the wilderness back in the day. Today, Soraya remains committed to fueling the next generation of wild kids.
"Forest bathing" is calming, aids concentration, and relieves stress and anxiety. We love watching our own children develop a deeper connection to nature in ways that develop an early passion for protecting wild places for future generations to come. Watching our kids fall in love with the outdoors through their eyes inspires us to reconnect with the things that led us to appreciate wild places in the first place.
Suddenly, jumping in muddy puddles can lead to a love of conservation. Skipping rocks across an alpine lake becomes an opportunity to nurture a deeper sense of self and emotional stability. Staring up at the expansive band of the Milky Way around the campfire ensures greater perspective of our place in the universe not just here on earth.
Here are 4 simple ways to introduce your kids to the outdoors:
1. Start off easy
Maybe it's a picnic at your local park. Taking notes on different animal tracks on groomed trails. Walking the dog along a trail. Or even planting seeds or pulling weeds. 
2. Make time for nature
Plan a weekend day to explore state parks and state forests. Give your kids fun checklists like plant and animal identification. Teach them to plot a route on a map on their own. Or even plan your next vacation at one of America's 63 National Parks. The parks service provides lots of great resources to plan your kid-and-family-friendly adventures. Here are our recommendations for the best early-season backpacking spots.
3. Bring along fun tools
You can enhance their explorations with fun tools to fuel their explorations such as magnifying glasses, binoculars, weather-proof notebooks and pens, or let kids simply take their own nature pictures. We love seeing how our children document their time in the outdoors from their perspectives. Mobile devices are an integral part of their school and friendship circles. Why not teach your kids simple photography and video tricks to help them document and share their very own outdoor experiences?
3. Let kids bring nature indoors
Allow your kids to bring the outside in to encourage attachments to wild things. Collecting rocks and sticks may seem like everyday kid activities, but they can fuel imagination and dreams about the adventures that await in the wild. Just make sure to check with local and state laws regarding protected things like wildflowers and feathers from birds of prey. Permits are easy to obtain and required in order to pick up certain items you come across along the trail. Archeological finds like arrowheads on state and federal public lands must remain where they're found. That's why you bring a camera!
Backpacker's Pantry knows kids need healthy fuel when exploring everything nature has to offer. That's why we make kid-friendly freeze-dried outdoor meals like Three Cheese Mac & Cheese, Rice and Chicken, Fettuccini Alfredo with Chicken, and Lasagna. We also offer hearty kid-friendly outdoor breakfasts. Our desserts are always kid-pleasers, too. We offer a wide variety of kid-and-family-friendly breakfasts, lunches, dinners, and desserts even the pickiest eaters will love.
We aim to inspire everyone to find their deepest nature in the wild. The outdoors is what you make it, and we encourage every family to inspire their kids to make it their own, too. The benefits are clear. It's science!
Recommended reads
To learn more about the science behind the benefits of exposing kids to nature, we recommend these informative books:
Richard Louv's "Last Child in the Woods: Saving Our Children from Nature-Deficit Disorder."
Florence Williams' "The Nature Fix: Why Nature Makes Us Happier, Healthier, and More Creative."
---