Insider's Guide to Rocky Mountain National Park | Backpacker's Pantry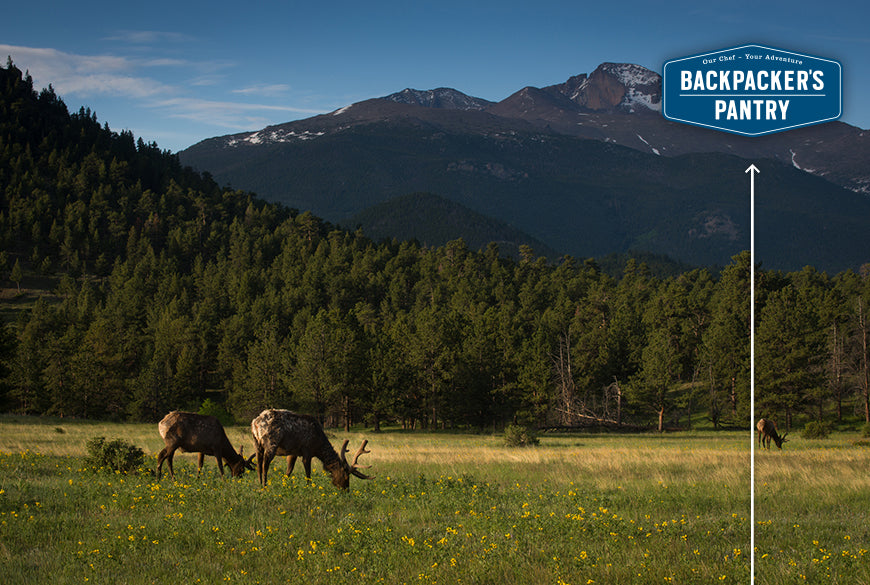 Planning Your Visit to Rocky Mountain National Park
Rocky Mountain National Park showcases the majestic beauty of Colorado. Here are our insider tips for making the most of your visit to this iconic outdoor destination.
What to Expect
Opened in 1915, Rocky Mountain National Park spans 265,761 acres, with a peak elevation of 14,255 feet atop legendary Longs Peak. Although the terrain is quite diverse, you can expect certain features, depending on which side of the Continental Divide you find yourself. The western mountains will include large boulder bases with broken ridges, while eastern aspects have been smoothed by ancient glacial waves.
The Rocky Mountains are a critical habitat for a great deal of wildlife, such as moose, elk, mule deer, pronghorn, white-tailed deer, bighorn sheep, mountain goat, gray wolf, black bear, grizzly bear, cougar, coyote, bobcat, Canada lynx and wolverine. While you won't see them all, there's a very good chance you will see deer, elk and moose, depending on your location.
Because the park is so expansive, you should plan your adventure well in advance, especially if you aim to hike the countless trails or spend the night at one of the car-camping/RV-friendly campgrounds. You should familiarize yourself with seasonal weather conditions, so you will have access to the entire park. Bear in mind that it gets much colder at higher elevations, so be sure to dress in layers and pack clothing for warm and cold environments.
Planning Your Visit
Depending on how you plan to spend your time, you will want to bring along plenty of information. This includes a map of Rocky Mountain trailheads, along with details about distance and elevation. If you plan to camp overnight, you will also want to research available campsites to get details on location, cost, limitations and whatnot.
Since Rocky Mountain National Park is a federally managed and protected area, it comes with a host of rules. Make sure your research these, so you don't end up with a costly fine.
Things to See
With countless miles of unspoiled land, the park offers endless opportunities for adventure and exploration. There are 355 miles of hiking trails, ranging from daunting mountain peak climbs to flat lakeside strolls. To get the most of your time and avoid any surprises, you should check out the most popular trailheads.
The road system of Rocky Mountain National Park provides scenic access to diverse ecosystems, featuring breathtaking fauna and flora. Roads bring you through aspen groves and lowland meadows, along tumbling rivers and up into subalpine forests that ultimately disperse in the high elevations. Rocky Mountain National Park also includes 50 lakes and countless streams for anglers. There's also horseback riding, picnic areas and incredible opportunities for wildlife viewing.
Home to the headwaters of the raging Colorado River, Kawuneeche Valley allows you to enjoy the quieter west side of the park, with picnic areas and family-friendly trails. On the east side, the Bear Lake Area offers scenic overlooks and many of the more popular hikes. The east side is also home to Lily Lake just south of Estes Park, where you will find breathtaking views of Longs Peak and family-friendly trails around the water.
Backcountry campers will also find plenty to like in the dense forest areas. There's also always the option to enjoy day adventures in the park, before retreating to rustic lodging in Grand Lake, Estes Park or Lake Grandby.
Backpacker's Pantry provides delectable food for the trail. Check out our freeze-dried foods and enjoy lightweight nutrition wherever your adventures takes you.
---