How to Make the Best Camp Coffee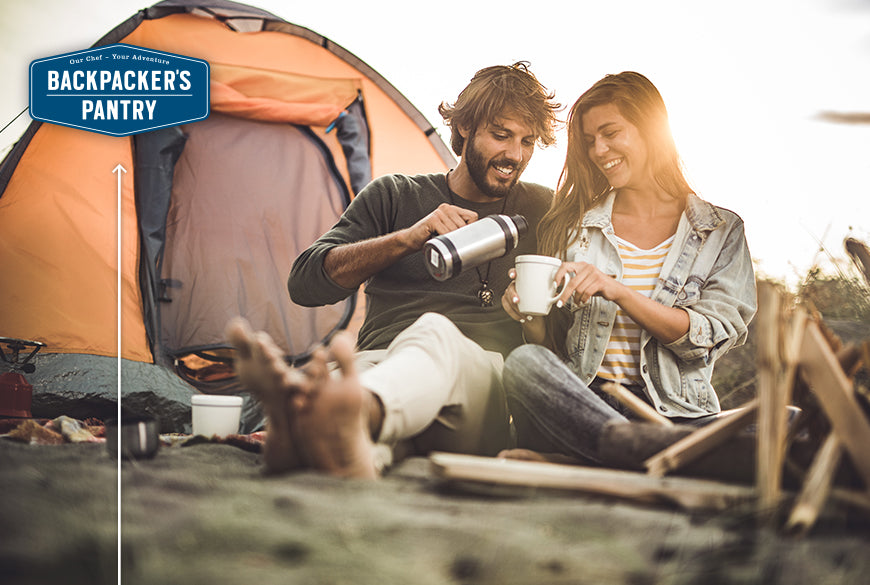 Our Favorite Ways to Brew Coffee at the Campsite
If someone crawls out of their tent after a night of camping and doesn't make a cup of joe to greet the day, did they even go camping?
As far as we're concerned, a hot cup of coffee in the morning is critical to happy camping. It's basically the lifeblood of outdoor adventuring and every coffee-loving camper would be wise to spend some time perfecting their perfect camp brew.
Speaking of the perfect camp coffee, everyone has their own preferences, and here are some of our favorite ways to make coffee at your campsite.
How to make cowboy coffee
Aside from instant coffee packets, this is probably the simplest and easiest way to make coffee, especially when you're backpacking with limited gear. The only tools you'll need are something to boil water in and a heating source.
First, fill your vessel with water and bring it to a boil. Remove it from the heat source and let the water cool for approximately 30 seconds (or until it stops boiling.) Stir in two Tablespoons of ground coffee per serving and let everything rest for two minutes.
Stir the coffee again, then rest for an additional two minutes. Add a dash of cold water to help settle the grounds to the bottom. Pour the delicious nectar slowly into a mug, taking care to avoid getting the grounds into your cup.
Making pour-over coffee while camping
If not done carefully, cowboy coffee can be thick, gritty, and may not be up to par for dedicated coffee aficionados. To up the ante, try a cheap and portable tool that makes brewing pour-over coffee a breeze, like this Primula Single Serve Coffee Brew Buddy. It easily fits over most mugs and will hardly take up any space in your pack.
To brew a cup, just add ground coffee to the filter. Boil your water and let it cool for about 45 seconds, then slowly pour the hot water over the coffee. Let the grounds steep for around 3-4 minutes then remove the filter and sip away. Note that getting the timing right will probably take some trial and error, depending on how strong you like your coffee.
Pour-over coffee that's extra delicious
Cowboy coffee and pour-over coffee are two of our all-time favorite ways to brew a campside cup of coffee, but this last one tops the list: Copper Cow Vietnamese Coffee, pour-over style.
We like Copper Cow Coffee as it brings the sweet and creamy flavor of Vietnamese coffee to the backcountry, and all you need is hot water and your favorite mug. Fresh coffee grounds are already in the pre-filled, biodegradable, portable, pour-over filters, and the California sweetened condensed milk comes in a separate tube to top it off.
Each pack comes with two filters so you can share with your camping buddy (or keep it for yourself, we won't judge.) It's almost like having a barista right at your campsite!
Trying Adding a Dash Of Pink Himalayan Sea Salt
Salty coffee? Think again. Adding a small pinch of pink Himalayan sea salt to your camp brew helps to take away extreme bitterness in your morning cup of joe. This makes for a smoother, more enjoyable cup. Additionally, choosing a mineral salt is a great way to balance your electrolytes first thing in the morning! 
Pair Your Cup With a Warm Breakfast
Hot coffee and a warm breakfast in the backcountry is a match made in heaven. Backpacker's Pantry makes lightweight, just-add-water breakfasts that let you skip camp dishes. Pair a savory no-skillet-needed breakfast scramble or a hot oatmeal with your cup of camp brew. Browse all camp breakfast meals here. 
--
Backpacker's Pantry provides ready-to-eat, lightweight camping food for short hikes, extreme adventures and everything in between. Browse our nutritious, gourmet food for the trail.
---