How to Choose A Camping Stove | Backpacker's Pantry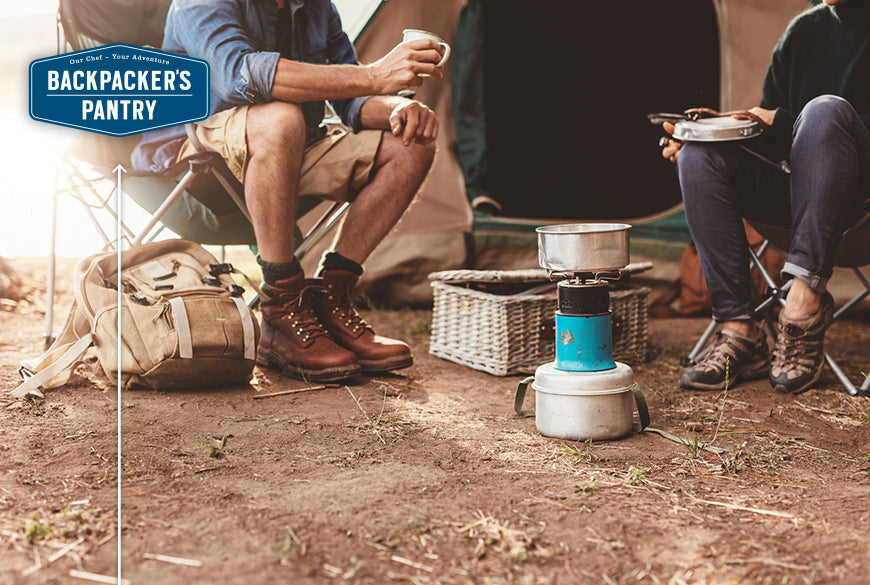 Which Type of Camping Stove Is Right for You?
Campers typically like to bring plenty of no-cook meals so they can spend less time cooking and more time on the trail. Eventually, however, it's nice to have a warm meal or hot cup of coffee. A quality camping stove allows you to quickly heat up your food without having to build a roaring campfire. Here's our guide for choosing a camping stove for your individual needs.
What Are Your Options?
Camping stoves come with all sorts of bells and whistles, depending on the brand. For our purposes, however, they can be broken down into three main types:
Liquid fuel stoves: These stoves connect to refillable bottles of fuel. While most run on white gas, there are some other options available, which can be especially useful if you are traveling internationally.

Canister stoves: These low-maintenance, easy-to-use stoves attach to the tops of self-sealing fuel canisters filled with propane and isobutane.

Alternative-fuel stoves: These stoves run on alternative fuel sources, such as wood or fuel pellets.
While all camping stoves provide the same essential function, there are some key differences that may make one more appropriate depending on your needs, experience and location.
The Pros and Cons of Each
When it comes to choosing a stove, a lot depends on your personal preferences, experience level and the place you will be camping. To help you make the best choice for your individual needs, it helps to know the pros and cons of each option:
Canister Stoves
Pros:
Compact and lightweight

Light quickly and require no priming prior to lighting the stove

Operation is simple: Turn the valve and light with lighter or match

Flame is easy to adjust and simmers consistently

Canisters automatically seal when unscrewed to prevent leaks or spills

Some include built-in pressure regulators that make them perform better in cold weather and high elevations
Cons:
May not be able to support large pots securely

Difficult to determine how much fuel remains in a used canister

Not compatible with windscreens, which can trap in heat and increase the risk of an explosion

Unless they have pressure regulators, canisters can depressurize in cold temperatures

Higher fuel costs compared to liquid-fuel stoves

Canisters must be disposed of at designated recycling areas
Liquid-fuel Stoves
Pros
Low-profile design offers greater stability

Easy to visually determine remaining fuel

No need to dispose of used canisters

Perform better than canister stoves in cold temperatures and at high elevations
Cons:
Liquid-fuel stoves require priming and maintenance

Heavier than canister stoves

Fuel spills can occur

Tend to cost more than canister stoves

If the stove uses a fuel other than white gas, impurities can clog certain mechanisms over time
Alternative-fuel Stoves
Pros:
Simple, compact and lightweight

Some can generate electricity to power a USB or charge a phone

Certain types can support optional grills
Cons:
It can be difficult to find dry fuel in wet conditions

May not be allowed during burn bans or at high elevations
What Should You Choose?
When deciding which camping stove will be best fit your needs, you should consider the stove's specs and feature. This includes weight, average boil time, burn time and any distinctive convenience features that might differentiate it from similar products. You will also want to test an unproven stove to make sure it works before heading off into the wild.
Before using a camping stove, it's also a good idea to familiarize yourself with key safety guidelines, which should be included with the product. It's also a good idea to carefully inspect all fuel lines, connections and valves for damage or leaks before lighting your stove.
Backpacker's Pantry provides ready-to-eat gourmet backpacking food for outdoor enthusiasts. Browse our lightweight, nutritious food for the trail.
---