High Altitude Fueling with Backpacker's Pantry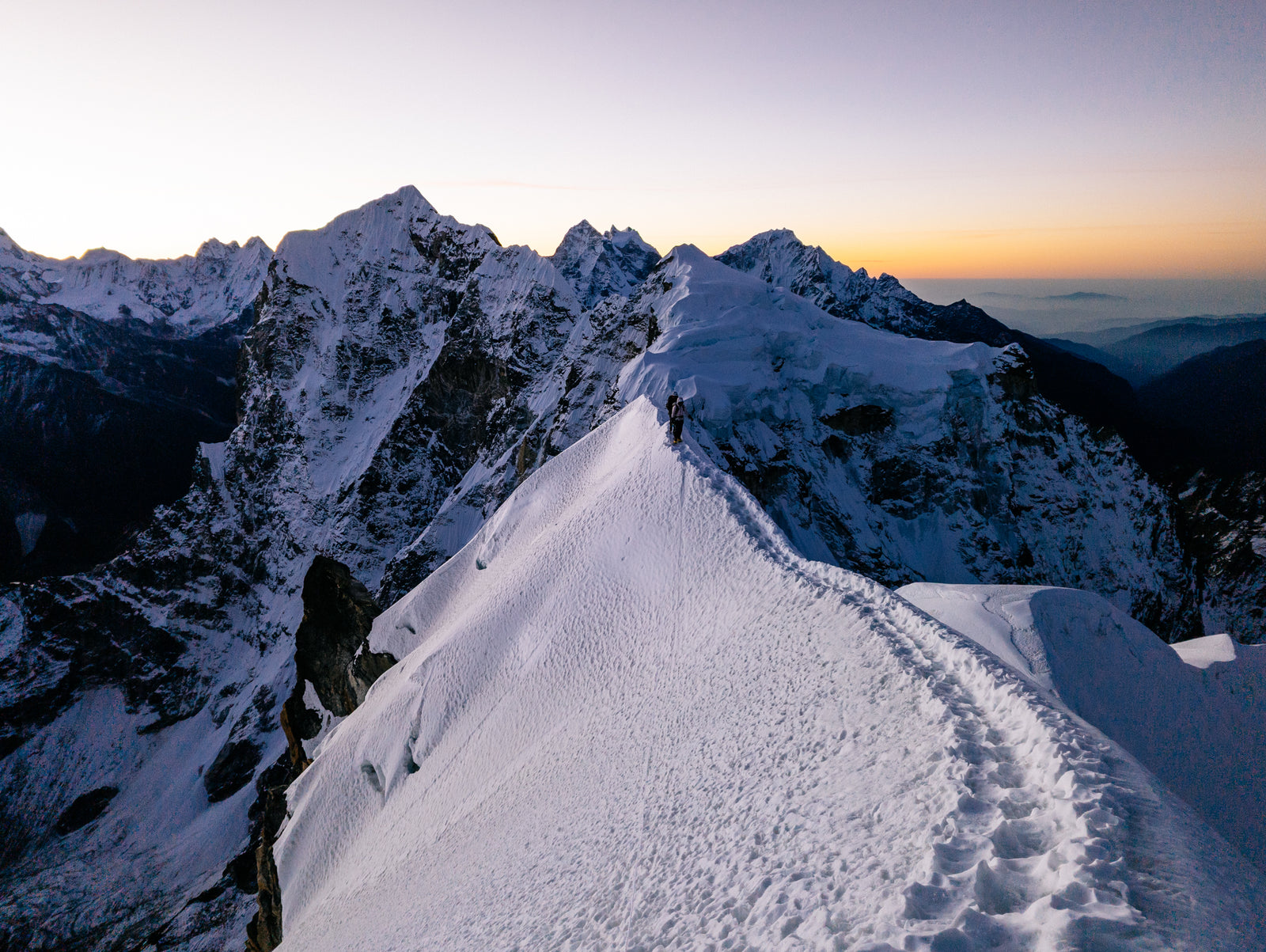 Written by Chris Brinlee Jr.
As the sun crests below a jagged horizon, your gaze drifts outward across a vast expanse of snow covered peaks. They're bathed in alpenglow, radiating pastel hues of purple, pink, and orange; it's one of the most breathtaking views that you've ever seen. Reaching this vista was a  monumental feat, but as the sun sets it retracts its heat. You're fulfilled, but tired and getting cold; and its time to eat.
A straightforward task it would seem, but everything is tougher and takes longer while operating in the alpine. These insights can help you make the most out of your meals at high altitude, ensuring that you've got fuel for the objective ahead, whether that's continuing up or getting back down to the trailhead.
Choose the right meals
Our bodies burn more energy, faster in order to maintain optimal function while operating in cold environments, especially at altitude; so it's important that we replenish calories and nutrients in order to efficiently recover and keep going day-after-day. Additionally, altitude has a tendency to diminish our appetites; so it's extra important to choose tasty food that's easy to consume.
There are a few factors to consider. Choose meals that have higher caloric and nutrient density—especially protein. The average adult can digest about 20-25 grams of protein per hour, so opt for a selection in that range.
Consider appetite. What are things that you really like to eat? What meals do you crave? When the body is saying no to food, it's important to compensate with extra tasty options.
Consider the base-makeup, and how those ingredients can affect rehydration time. Mashed potatoes and quinoa rehydrate faster than rice and beans. When there are a dozen tasks to do at the end of each day—setting up the tent, stripping gear, inflating sleeping pads, melting snow to boil water—every minute saved adds up; the more efficiently you can eat, the quicker you can get to sleep and continue recovery in preparation of the next day.
What particular meals fit these parameters? Consider Shephard's Potato Stew with Beef, Mushroom Stroganoff, Hatch Green Chile Mac & Cheese, and Lasagna.
Add extra water (and stir)
Staying adequately hydrated is difficult to do at altitude, so here's a little bonus: add extra water to your meal—and stir! This will ensure that there are no crunchy bits left at the bottom; when you finish the solids, you'll have a warm soup that's ready to drink.
Dial in the rehydration time
Backpacker's Pantry meals are prepared at 5,000-feet and their rehydration times are based at that elevation. It's recommended to double for every additional 5,000-feet. That equates to about 30 minutes at 10,000-feet. 45 minutes at 15,000-feet. One hour at 20,000-feet.
After some experimentation, I've observed that 30 minutes is adequate rehydration time between 14,000 and 20,000 feet—especially for meals with a mashed potato, quinoa, or pasta base. For rice and bean-based meals, maybe add a little extra time.
Keep it hot (and yourself warm)
Few things are worse than waiting 30 minutes for your food to cook, only to discover that it's already cold by the time you go to eat it. Fortunately, this is an easy problem to solve. Once you've added boiling water and stirred your meal, seal it up real tight and fold the top over a couple of times. From this point, you've got a couple of options. If you're already in your sleeping bag or quilt, consider moving the meal in with you, keeping it balanced and upright between your thighs. It'll act like a giant heating pad. If you're not bedded down yet, place the meal between your sleeping pad and bag, which will insulate it all around. Whatever you do—don't set it directly on the ground.
Pro move: if you've still got stuff to do outside the tent, but you have a big parka with mesh pockets on the inside, place the pouch in one of those and zip it up. It's instant heat, right next to your core. This will work with a regular down jacket too, you just might have to hold the pouch in place with hands in your pockets.
Add some crunch
As delicious as Backpacker's Pantry meals taste, sometimes they can have a one-dimensional texture. Here's a solution: smash up your favorite chips into crunchy bits (or better yet, pork rinds for their fat and protein content) and place them in a zippered pouch. Once your meal finishes rehydrating and you're ready to eat, sprinkle some of that delicious add-in to every bite.
Eat it with a long spork
Washing dishes sucks, especially when water is a limited commodity. Instead of transferring your meal into a bowl, eat it straight from the pouch with a long spork. Sporks are preferable to spoons, because they've got teeth that are great for grabbing noodles. Lick it clean when you're done.
Pack it out
Backpacker's Pantry pouches make fantastic vessels for collecting the rest of your trash. After you finish eating, consolidate your rubbish.
Another pro tip: If you're traveling in a fragile alpine environment (like on a glacier) the empty pouches can be used as a wag-bag in a pinch. Just make sure to seal it tight and pack it out.
Chris Brinlee, Jr. is a professional adventurer, storyteller, and expedition leader. In November 2022, he led a small team to the summit of Cholatse, a 21,128' peak in the Khumbu region of Nepal, via its southwest ridge a technical mixed mountaineering route. Learn more about him at Boldly.Live, or join him on a trip through Transcendent Expeditions
---