The Best Lightweight Backpacking Snacks To Keep You Moving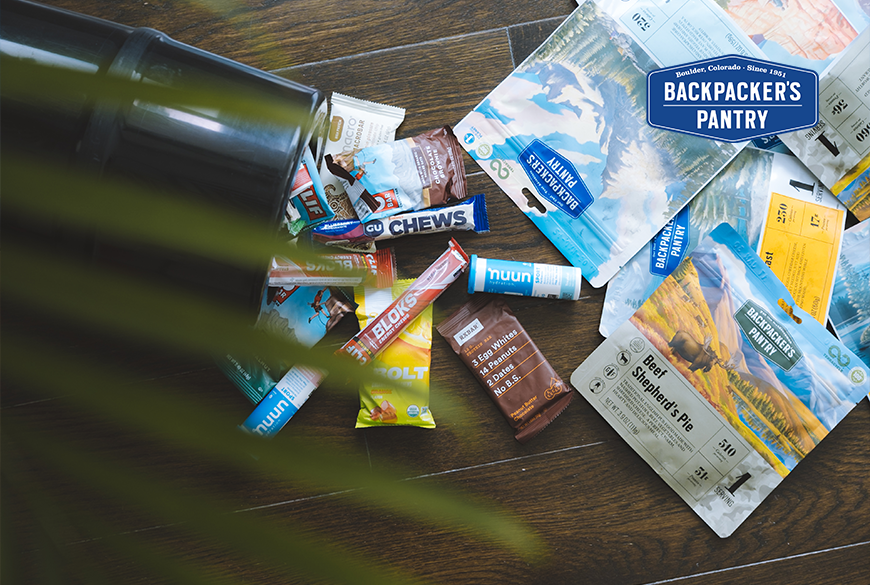 Sweet & Savory Snacks For The Trail
Sick of eating granola bars and gorp on the trail? Excite your taste buds with some new backpacking snacks that are enjoyable to eat & will give you the quick energy you need to keep you moving. As a company who is committed to offering adventurously flavored backpacking meals, we want you to enjoy some adventurously flavored snacks too.  
For Your Sweet Tooth
Dried Mango: Dried mango is naturally sweet, chewy and fun to eat on the go! It's also lightweight & healthy, as it contains many key vitamins & minerals.
Freeze-Dried Fruit: For the ultralight backpacker, choose freeze-dried fruit over dried fruit. It's crunchy & delicious yet weighs virtually nothing in your pack. Checkout the freeze-dried fruit varieties offered by Astronaut Foods. 
Medjool Dates & Almond Butter Packets: This is the ultimate dynamic duo if you have a strong sweet tooth. Dates have a wonderful caramel taste and chewy texture. When paired with a creamy nut butter packet, you'll feel like you're eating a luxurious treat! 
RX Nut Butter Packets: Nuts, 1 egg white, and 1/2 date make these nut butter packets extra nutritious. Try the Cinnamon Honey Peanut Butter, Chocolate Peanut Butter, or Vanilla Almond Butter by RX for a quick, tasty, protein-packed snack.
Power Crunch Protein Bars: These protein bars have a great crunchy texture and are light as a feather to carry in your pack! You'll love the wafer-like consistency and the fun flavor options like Peanut Butter Fudge and Chocolate Mint. 
Homemade Protein Bites: Looking to save some $? Make your own, no-bake protein power bites with just a few ingredients. Simply combine: nut butter of your choice, protein powder, semi-sweet chocolate chunks, chia seeds, ground flax and agave syrup. Roll into little balls to pack in your bag! 
Backpacker's Pantry Granola: A protein-rich granola that tastes amazing by the handful! The Granola with Blueberries & Milk contains 16 grams of protein per pouch, and is made with nutrient-dense ingredients such as oats, real butter, almonds, blueberries, coconut & milk. Lightweight, and ready to enjoy whenever hungry strikes. Try the Granola with Bananas & Milk too! 
Energy Chews: Bring some energy chews for some quick energy when you feel like you need an instant pick-me-up! CLIF BLOCKS are practical bonk-proof chews that come in some great flavor options like Salted Watermelon & even Margarita. 
For The Savory Snack Lovers 
Grass-fed Beef Sticks: If you're a meat-eater, add lightweight high-protein  beef sticks to your backpacking snacks. Just be sure to choose the grass-fed ones. Not only do grass-fed beef sticks taste better than conventional meat sticks but they are more sustainable for the environment and are healthier, as well. Chomps is a solid brand to choose!
Plantain Chips: Plantain chips are thicker than potato chips, just a tad sweet and better for you too! These Chili Picante Plantain Chips by Inka Chips are seriously addictive . . .
Cheese Crisps: Cheese crisps pair great with dried fruit and also add great crunchy texture to just about any Backpacker's Pantry Entrée! Plus, they are a great way to incorporate more protein into your trail diet, as one serving of cheese crisps contains 10 grams of protein.
Crackers & Tuna Packets: Wild Planet Albacore Wild Tuna Packets easily slide into your pack and are filled with lean protein that your body needs. Pair this sustainable seafood with your favorite crackers for a satiating mid-day snack. For extra flavor, try their lime and basil or lemon and thyme varieties!  
Olive Packets: Trader Joes sells olive packets that will satisfy your hankering for something salty and fatty. A little healthy fat is always welcome when your torching calories out on the trail. Plus, the salt with help replenish you electrolyte stores!  
Peanut Butter Pretzels: Pretzels are great, but pretzels filled with peanut butter are superb. Unlike regular pretzels (which are mainly carbohydrates), protein pretzels have all three macronutrients (fat, protein & carbs), which will help curb your appetite until dinner!
Brad's Crunchy Kale Chips: You can still eat your greens on the trail! These dehydrated kale chips are loaded with flavor and nutrients and are super light in your pack! Brad's also offers veggies chips that are cracker-like, that hold-up well in a backpack too. Another great option for the ultralight backpacker!
For when mealtime hits, Backpacker's Pantry offers a variety of substantive, nutritious, lightweight backpacking meals. Just add hot water and enjoy a wholesome meal in minutes, wherever you are!
---