32 Essential Items to Put in Your Backpacking First Aid Kit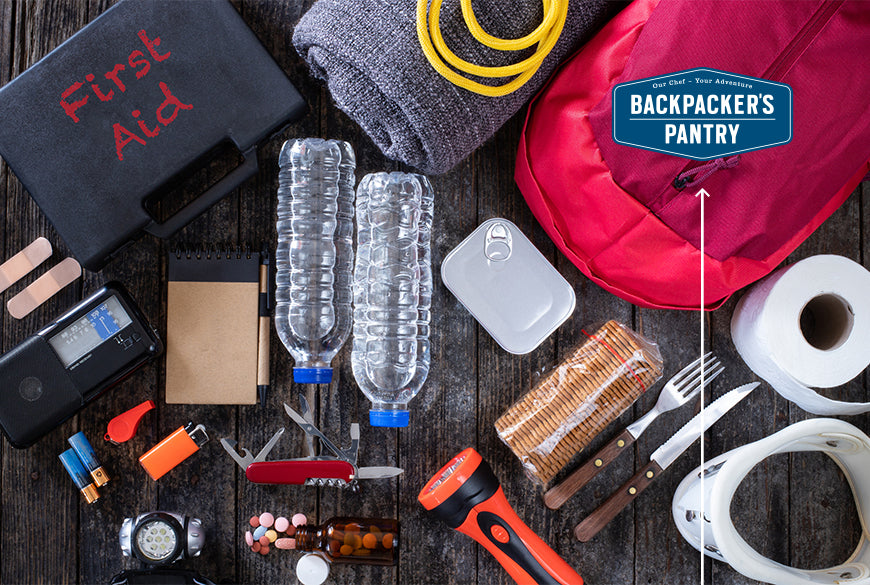 A fully stocked first aid kit is an essential part of staying safe when you head out on a longer backpacking trip. You can purchase pre-made kits, but it's also easy to make your own, and here's what your DIY first aid kit should contain:
      1. Bandages: Choose assorted sizes for minor cuts, blisters and other wounds.
      2. Butterfly closures or 4-inch strips: Great for sealing large wounds.
      3. 4x4 sterile dressing pads: Useful for applying pressure to wounds to stop bleeding.
      4. 2x2 non-adherent sterile dressing: Use these to cover burns, blisters or lacerations.
      5. Gauze roll: Useful for holding wound dressings in place.
      6. Roll of adhesive tape: Use to hold your dressings in place.
      7. Multi-use tool: This tool should include scissors and a knife.
      8. Tweezers or forceps: For removing ticks, splinters and debris from fresh wounds.
      9. Trauma scissors: Use to cut away medical tape and clothing from injuries.
      10. Digital thermometer: Use to check for fever, which could point toward infections.
      11. Malleable splint: Choose a SAM splint or other type of lightweight foam-covered aluminum product.
      12. Irrigation syringe: Use to clean and flush wounds.
      13. Suction syringe: Use to clear fluid from the mouth when giving CPR.
      14. Safety pins: Use to fasten arm slings, remove splinters or poke a hole in a plastic bag for wound irrigation.
      15. Cotton-tip swabs: For applying antibiotic ointment or removing debris from the eyes.
      16. Plastic bags: Use to create a makeshift wound irrigation device or icing a swollen joint.
      17. Rubberized bandage: Use as wound dressings, an outer wrap on splints or as support for joint injuries.
      18. Antiseptic towelettes: Use to clean small wounds.
      19. Lidocaine cleansing pads: These include a topical anesthetic for stings and abrasions.
      20. Topical antibiotic ointment: Vaseline can also be used to dress a wound.
      21. Moleskin: Use to help prevent blisters; duct tape can also be used for this purpose.
      22. Povidone Iodine 10%: To prevent infection, dilute to a ratio of 1% or less to flush wounds.
      23. Aloe vera gel: Use to relieve minor burns.
      24. Pain relievers: Acetaminophen or NSAIDs; aspirin may be used to reduce the risk of a cardiac event depending on age.
      25. Antihistamines: Reduce reactions to stings or bites and relieve allergies.
      26. Imodium: Relieve diarrhea.
      27. Antacids or Pepto Bismol: For relieving abdominal upset and general diarrhea.
      28. Hydrocortisone cream: Relieving skin irritation from stings, poison oak, bites or allergic reactions.
      29. Nitrile or latex gloves: Protects from infection and potential blood-borne disease.
      30. Rehydration salts: Packet of glucose and electrolyte salts to treat heat exhaustion or dehydration.
      31. Space blanket/bag: Lightweight emergency shelter for hypothermia.
      33. Caffeine pills: Alertness aid during emergency evacuations.
A comprehensive first-aid kit should also contain a Wilderness First Aid booklet and dehydrated, freeze-dried food in case you are stranded due to inclement weather, an accident or injury.
Backpacker's Pantry provides ready-to-eat, lightweight backpacking food for every type of outdoor adventure. Browse our nutritious, gourmet food for the trail.
---