Delicious Vegetarian Camping Food Ideas (That Even Carnivores Will Devour)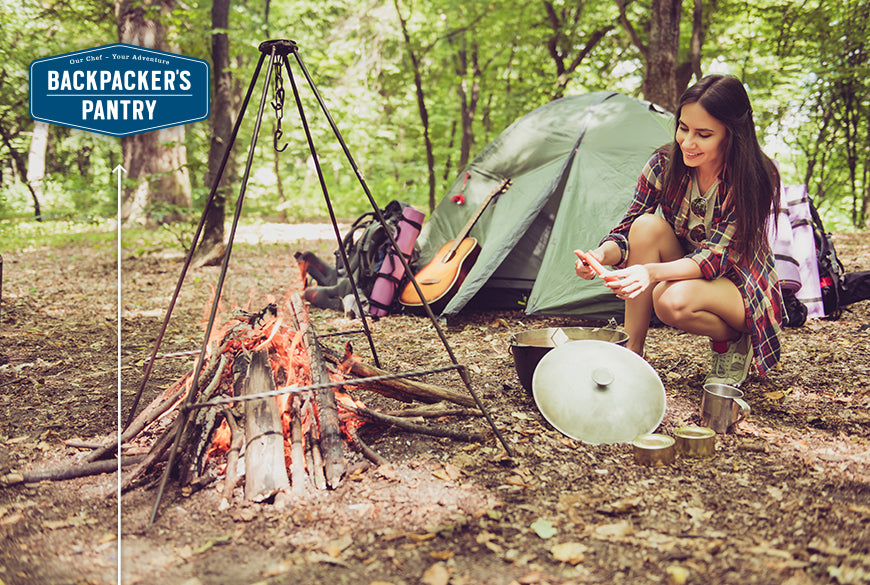 Meat-Free Camping Meals For Your Next Adventure
Before you know it, the prime summer camping season will be here. That means it's time to start thinking about all of the mouth-watering vegetarian camping food you'll enjoy around the bonfire!
We want to make sure you're all set for the tastiest camping season you've ever had, so the Backpacker's Pantry team has compiled some of our favorite easy-to-make vegetarian camping meals. When you bring these flavorful meals into the wilderness all of your adventure buddies will try to sneak a bite… even the most devoted meat eaters.
Chickpea Breakfast Hash with Summer Veggies
Whip up this breakfast hash from Fresh Off the Grid and you won't be hungry until lunch. You'll need a cast iron skillet and a cutting board, so this recipe is best for car camping or campground camping. Alternatively, make prep even easier by pre-chopping and seasoning the veggies before heading out into the wilderness.
Good old fashioned oatmeal
Sometimes, it's best to stick with the classics. Luckily, oatmeal is a vegetarian breakfast that's perfect for camping.
We're impartial to our Peanut Butter & Raisin Oatmeal, but it's not the only way to eat your oats. Overnight oats are a delicious make-ahead breakfast that you can store in your cooler. Or, try setting up a campsite oatmeal bar by making a big batch of oatmeal for the group. Bring toppings like nuts, dried fruit, fresh berries, peanut butter, coconut flakes, and granola, then let everyone make their own breakfast masterpiece.
Campfire Nachos
Who doesn't love nachos? With this recipe from The Live-In Kitchen, you can easily enjoy them while sitting around the campfire. These nachos are so versatile, which makes it easy to whip up something that appeals to all the palates in your crew.
The recipe suggests using a cast iron pan, but some campers opt for foil baking pans because the clean-up is a snap.
Healthy & Fast Grilled Shrimp Foil Packets
If you're a vegetarian who veers into pescetarian territory, these easy-to-make foil packets are calling your name. They're packed with colorful veggies, lots of spices, and plenty of shrimp.
As the recipe explains, you'll want to cook the potatoes before putting your packets on the grill. This can be done at home or at the campsite, it's completely up to you. If you aren't up for peeling the shrimp as you eat, be sure to choose your shellfish accordingly.
Spicy Thai Peanut Curry with Vegetables
If anyone questions whether your vegetarian diet includes enough protein, just show them the nutrition label on this Backpacker's Pantry favorite. This nutritional powerhouse is our most calorically-dense and highest-protein meal.
Each pouch is packed with flavorful Thai spices, hearty long grain brown rice, and two packets of creamy, all-natural peanut butter. It's perfect for sharing, but we understand if you want to keep this curry all to yourself after a strenuous day of adventuring outside.
Don't just take our word for it, though. Check out these top hiking picks for breakfast, entrees, snacks, and desserts and decide for yourself!
---