Build the Ultimate Camp Kitchen With These Tips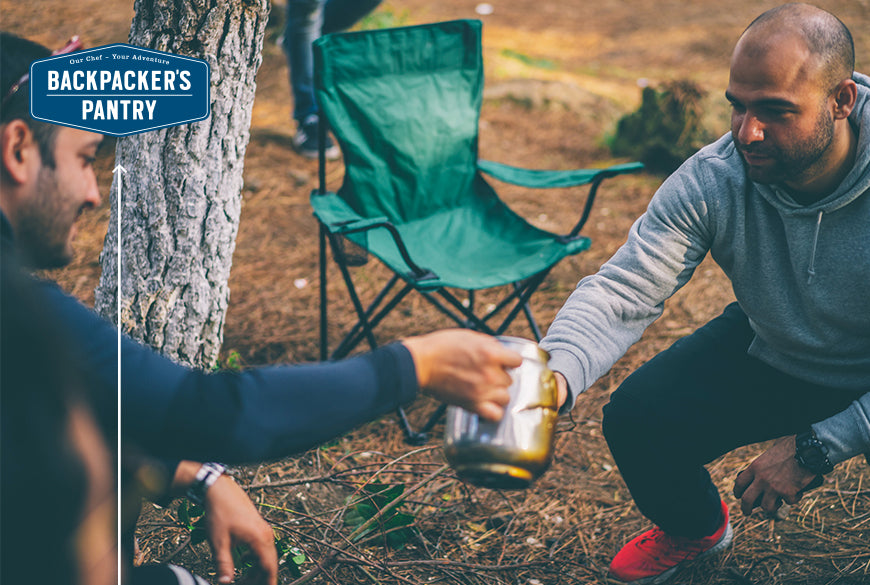 A Few Basics Will Ensure Meal Time is Just as Fun as Your Trek
Nothing works up an appetite like a day in the great outdoors, which means feeding and fueling your body on the trail or at camp is a vital pre-trek item to check off your planning list. Setting up your camp kitchen thoughtfully can save a lot of frustration when you're ready to getting cooking. Here are our tips for setting up camp (kitchen) whether car camping or backpacking.
Grill and/or stove
A grill or stove is logically the first piece of gear you need in your camp kitchen. Whether you're grilling veggie burgers, looking to make a hearty breakfast or just want to boil some water for soup, coffee or a freeze-dried meal, getting things cooking is always the first step.
Learn about which type of camping stove is right for you.
Quality cooler
If you're going to car camping multiple days, you'll need meals for all of them and nothing will spoil your plans faster than spoiled food. Invest in a quality cooler to keep it fresh. Among the best rated are the Yeti Tundra, the ORCA (Outdoor Recreational Company of America) and the Coleman Steel-Belted Cooler.
**Cooler tips:
Before you go, cool it down. Since coolers are designed to retain their temperature, it's best to cool yours down before packing it. To do so, pour in a bag of ice a few hours before you plan to load it up. When you're ready to pack it, dump that ice and add fresh ice before adding your food and drinks.

Pack your food on the bottom and cover it with ice and pack it tightly.

Use ice in large chunks so they melt slower.

Don't drain the water from the cooler unless you plan to pack in more ice. Draining the water allows air to fill empty space, and air is the biggest enemy in keeping coolers cold.
Utensils and such
What you'll need will vary based on what you plan to cook, but a few essentials to bring along include:
Plastic cutting board

Pots and pans. You don't have to get spendy. You can grab a few at the thrift store. Or you can buy a set designed for camping, such as the GSI Portable Camper or the Winterial 11-piece camping set, both of which were among the top of Outdoor Gear Lab's top picks.  

Dishes and utensils. Get a set of cups, some sort of handled coffee cup is probably best, along with a set of plates and bowls, and some forks, spoons and knives. A trip to thrift store might be good for the flatware, or you could invest in few camping sporks, such as the Snow Peak Titanium Spork, which got high marks from Outdoor Gear Lab. Also make sure to include a knife sharp enough to chop your ingredients, or carry a multitool such as a Leatherman.  

Odds and ends. Other recommended items from a host of experts include a tea kettle, a cheese grater, a collapsible large bowl, a strainer, a spatula, a serving spoon, tin foil, paper towels, dish soap and an oven mitt.

Don't forget the matches or a lighter.
Water
You'll need water, whether for cooking, drinking or doing the dishes. Find a high-quality bladder to tote it. Outdoor Gear Lab recommends the  MSR DromLite Bags because the small pinhole spout allows you to use little water to wash your hands or rinse dishes.
Trash can and trash bags
Don't forget you'll have to pack out what you pack in, so you'll need some trash bags to do so. A pop-up trash can can make it easier to collect trash at your campsite, and two can make it easy to sort recyclables from refuse. Bring airtight sealable bags for smelly trash to keep the odor from attracting wildlife. And have a plan for bear-proofing your trash and food.
The "extras"
A coffee press can be great for your morning Joe, while a collection of spices can be great for any meal and cooking oil can make cooking a snap. Other extras to consider include LED lights for cooking at night; a tent or canopy to shelter your camp kitchen from the sun and elements; a corkscrew; good beer koozies; and a some wire hangers or skewers for S'mores.
A table also is a nice extra if you have the space to bring something collapsible/portable along, as is a "sink," which can be as simple as a bucket. A lightweight, plastic drying rack will be a welcome addition, too.
Keep it together
Keep all your camp kitchen gear together in a portable plastic tub with a lid. It's a great way to have everything you need in one place and at the ready when you need it. While a tub might not work on a backpacking day trip, it's perfect for a car camping excursion.
Backpacker's Pantry provides ready-to-eat, lightweight food for your camping adventure. Browse our nutritious, gourmet food for the trail.
---