BACKPACKER'S DELIGHT: A DEEP DIVE INTO OUR ROCKY MOUNTAIN SCRAMBLE WITH CHEF SORAYA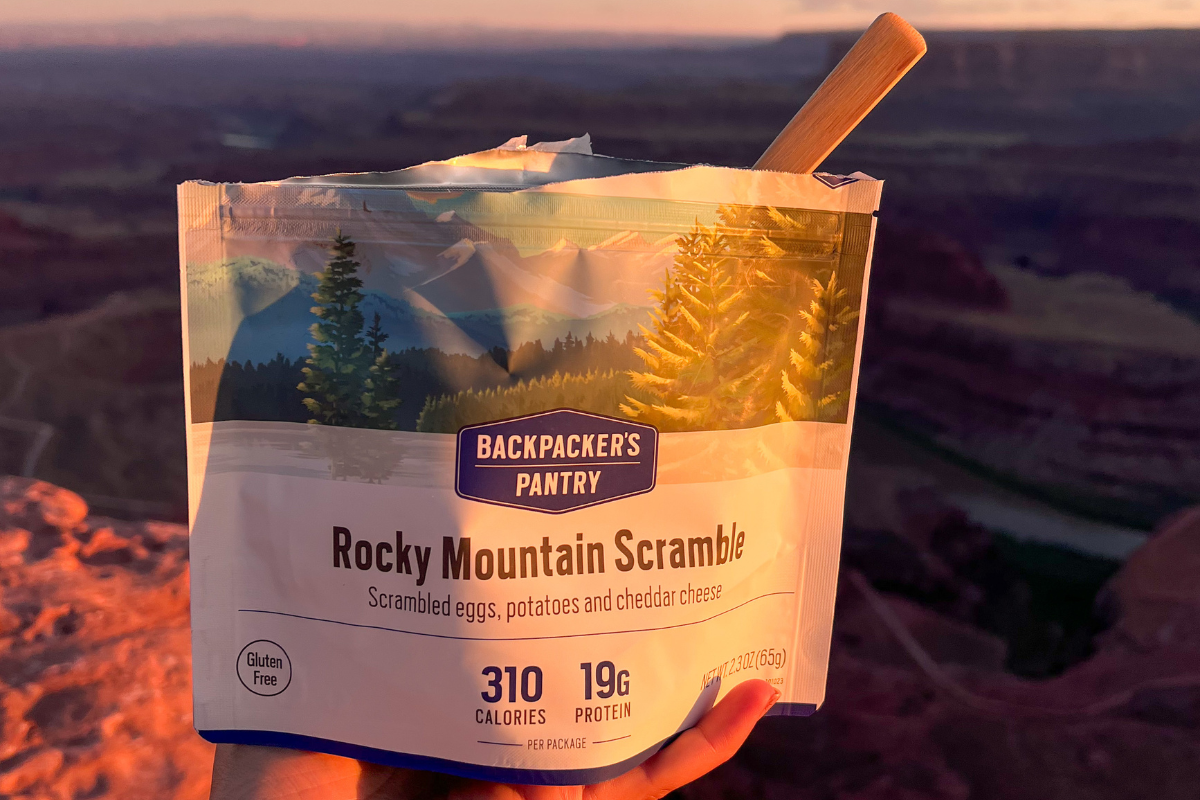 Learn about our Rocky Mountain Scramble from Chef Soraya
The first step to ensuring a quality day on the trails? A delicious and hearty breakfast. We understand this better than anyone, which is why our Rocky Mountain Scramble has become a beloved choice among outdoor enthusiasts. This protein-rich choice will take you on a culinary adventure and leave you with no doubt as to why Rocky Mountain Scramble is one of Backpacker's Pantry's top-rated and most popular breakfast meals for backpacking and beyond.
Rocky Mountain Scramble - A Backpacker's Staple
When it comes to fueling up for a day of adventure in the great outdoors, breakfast is undoubtedly the most important meal of the day. For backpackers and outdoor enthusiasts, finding a convenient, delicious, and energy-packed breakfast option can be a game-changer. This gluten-free scramble does just this, combining the convenience of freeze-dried ingredients with the deliciousness of a homemade breakfast skillet. It's the perfect way to start your day on the right foot, whether you're hiking, camping, or backpacking.
From the Expert's Kitchen: Chef Soraya's Take


Before we delve into the details, let's hear from the expert herself, Chef Soraya, as she chats about this mouthwatering meal. Watch the video above to get a sneak peek at what makes our Rocky Mountain Scramble so special.

The Ingredients

Our Rocky Mountain Scramble is a meticulously crafted breakfast dish that combines wholesome ingredients to fuel your outdoor adventures. The key components include:

1. Freeze-Dried Eggs: A good source of protein, these eggs rehydrate remarkably well, retaining the flavor and texture you'd expect from a homecooked scramble.
2. Potatoes: Golden, fluffy potatoes bring a restaurant-style element to this delicious breakfast.
3. Bell Peppers: Freeze-dried bell peppers contribute a burst of color and healthy vitamins.
4. Cheddar Cheese: Creamy cheddar cheese enhances the flavor profile and makes every bite irresistibly cheesy.
5. Onions: Dehydrated onions infuse the scramble with a rich, savory taste.
6. Spices: A blend of spices and seasonings completes the dish, ensuring a perfect balance of flavors and a breakfast you'll want to get up for.

You'll love it!

Now, the most exciting part – tasting the Rocky Mountain Scramble. As you take your first bite, you'll be greeted with the comforting flavors of perfectly scrambled eggs, the satisfying crunch of hash browns, and the zing of bell peppers and onions. The cheese adds a creamy richness that ties it all together. It's a taste of home in the heart of the wilderness- a breakfast worth getting out of your warm sleeping bag for. 

Versatility in the Wild

The Rocky Mountain Scramble is not only a breakfast champion but also incredibly versatile. While it's a fantastic standalone meal, you can also get creative with it. Here are some ideas:

- Breakfast Burrito: Scoop the scramble onto a tortilla, add some hot sauce, salsa, or any other topping you can find, roll it up, and you've got a breakfast burrito that's fit for a trail king or queen.

- Toast: Enjoy your scramble on campfire toast for some extra carbs, or on top of avocado toast for a truly special camping breakfast. 

Conclusion

In the world of backpacking and camping, Backpacker's Pantry's Rocky Mountain Scramble has earned its place as a top-rated and beloved breakfast choice. Its delicious flavors, ease of preparation, and versatility make it a must-try for outdoor enthusiasts of all levels. Whether you're conquering mountain peaks, exploring remote trails, or simply camping under the stars, the Rocky Mountain Scramble is your ticket to a satisfying and nourishing breakfast experience.

So, the next time you're planning your outdoor adventure, don't forget to pack this breakfast delight and savor the goodness of the Rocky Mountains at sunrise. Your taste buds and your hungry stomach will thank you!
---