The 10 Best Apps For Backpacking & Camping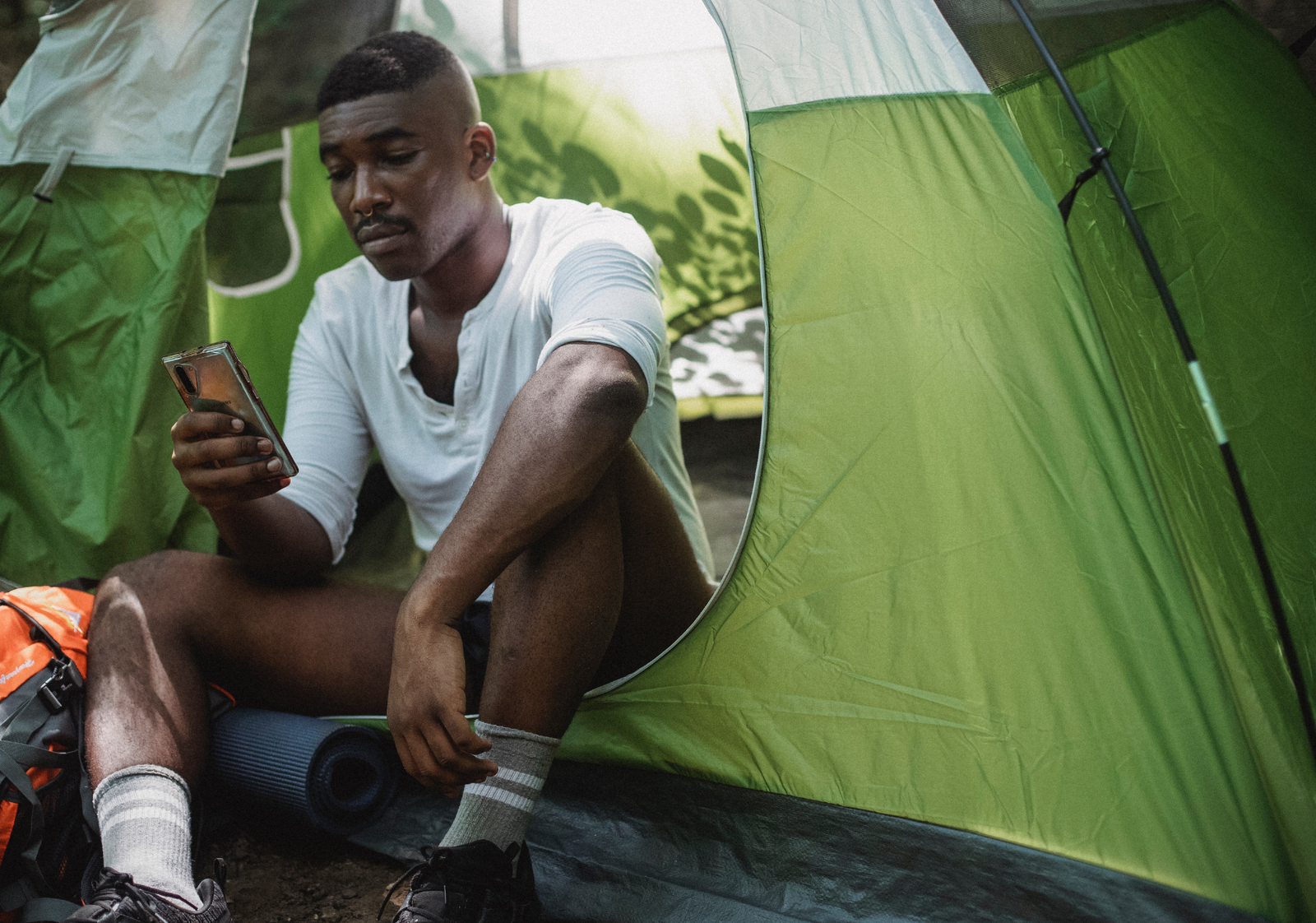 Backpacking is a great way to explore the outdoors and get some exercise. But it can also be a bit daunting, especially if you're new to it. That's where apps come in. There are a number of apps that can make backpacking easier and more enjoyable. In this blog post, we'll take a look at some of the best apps for backpacking. We'll cover everything from finding trails to planning your route to tracking your progress. So whether you're a seasoned backpacker or just getting started, read on for the best apps to make your next backpacking trip a success!
Best For Navigation - onX:
onX Maps is a great app for backpacking because it provides offline access to maps, even when you don't have cell service. This is essential for backpacking, as it allows you to navigate without relying on your phone's GPS. The app also offers information on trails, including length, difficulty, and elevation gain, which can help you plan your route and ensure you have the appropriate gear and supplies for the trip. Additionally, you can create customized waypoints for campsites, water sources, and other points of interest, so you can plan your route and ensure you don't miss any critical waypoints along the way. The app also provides detailed information on public land boundaries, including national forests, wilderness areas, and other public lands, so you can ensure you are camping in a legal area. Finally, the onX app provides up-to-date weather information for your current location and any other location you choose, so you can plan your trip and ensure you are prepared for any weather conditions you may encounter. Overall, onX Maps is a great app for backpacking. It provides offline access to maps, trail data, navigation features, weather information, and more. If you're planning a backpacking trip, OnX Maps is a must-have app.
Learn More & Download:
https://www.onxmaps.com/
Best For Trip Planning & Community - AllTrails:
With more than 25 million registered users, this app is one of the world's most popular backpacking resources. The intuitive platform allows you to easily plan your trip and find new routes. Using the map view, you can browse through areas, tap on pins, and learn all the important details about a trail. Every trail includes a variety of information, including distance, reviews, elevation gain, photos, and more. You can also find out if dogs are allowed and whether you will have to share a trail with bikes or horses. You can opt for a paid pro subscription to download your maps for offline use and gain access to real-time map overlays, including route planning, weather, print maps, and much more. The AllTrails app also allows you to share your experiences with other backpackers. This is a great way to get tips and advice from other hikers and learn about new trails.
Learn More & Download:
https://www.alltrails.com/mobile
Best For Maps - Gaia GPS:
One of the most versatile apps for outdoor adventure, Gaia GPS can be used as a hiking app, backpacking resource, hunting guide, or off-road map. It even includes specialized information such as public and private land ownership. Use Gaia to seamlessly sync your backpacking data between all of your phones, computers, and tablets. You can also use the app to share trip plans, browse popular trails, and record your trips. Gaia GPS includes a database of over 2 million trails, so you can find new places to explore. Gaia is part of the Outside family, so if you have a subscription to Outside+, you already have access to the app!
Learn More & Download:
https://www.gaiagps.com/
Best For Education & Stewardship - Leave No Trace:
Created by The Leave No Trace Center for Outdoor Ethics, this informative website is designed to educate outdoor enthusiasts to appreciate, respect, and enjoy the outdoors responsibly. It includes helpful information and blog posts that center on the seven principles of LNT outdoor etiquette: planning ahead, traveling on durable surfaces, proper waste disposal, leaving what you find, minimizing the impact of campfires, respecting wildlife, and being considerate to fellow outdoor enthusiasts. It's a great resource for backpackers who may not be familiar with contemporary Leave No Trace etiquette. You can also learn about the natural and cultural history of the area, including wildlife and plants, which can help you understand the importance of Leave No Trace practices and make informed decisions about how to minimize your impact. Additionally, you can record your observations of wildlife and other natural features you encounter during your trip, contributing to citizen science projects and increasing your understanding and appreciation of the environment. Finally, if you encounter any issues during your trip, such as trash or damage to the environment, you can report them through the app, helping land managers and other stakeholders address issues and maintain the integrity of the area for future visitors. By using the Leave No Trace app, you can be a responsible steward of the environment and help protect the natural beauty of our public lands. The Leave No Trace app is a great tool for backpackers who want to minimize their impact on the environment while enjoying the great outdoors.
Learn More & Download:
https://play.google.com/store/apps/details?id=com.citscimobile2020.lntCitizenScience&hl=en_US&gl=US
https://apps.apple.com/us/app/leave-no-trace-citizen-science/id1536428995
Best For Sharing Your Trip - OutdoorActive:
OutdoorActive recently merged with ViewRanger to form a comprehensive app for outdoor enthusiasts. The creators have partnered with official mapping agencies in two dozen countries to gain highly detailed topographic maps. Route guides are all submitted by individual users, the Parks Service, outdoor brands, and tourism agencies. Within the app, you also can plot your own routes and add specific points of interest to check out later. Once you hit the trail, the app offers turn-by-turn navigation, making it easy to follow the trail and stay on course. You can also track your progress and monitor your distance and elevation. The app provides information on nearby amenities such as water sources, restrooms, and other facilities, which can be especially helpful if you're backpacking in a remote area and need to plan for resupply points. Additionally, you can record your trip and add photos and notes to your trip log, creating a digital journal of your adventure. Finally, you can share your trip with others, either through the app or on social media, inspiring others to get outside and explore the great outdoors. All of OutdoorActive's maps are downloadable for off-grid use. You can also flip on the app's Buddy Beacon, which allows you to view and share locations with friends, family, and followers.
Learn More & Download:
https://www.outdooractive.com/en/mobile-app.html
Best For Planning - Komoot:
Komoot makes it easy for users to plan, keep track of, and share their outdoor adventures thanks to accurate turn-by-turn navigation. The discover page highlights blog posts from other users and offers detailed breakdowns of routes, including notes and tips, photos, and other important trail information. With the route planner, you can select an activity, input an end destination, and the app will plan the most efficient route. When you are finished, the app will show the elevation, distance and estimated time you will need to complete the route. You can also zoom in on your elevation profile to access a range of finer details.
Learn More & Download:
https://www.komoot.com/
Best For Roadtripping - iOverlander
While its geared towards "overlanding," or car-based exploration, the iOverlander app can be great for backpackers, too, especially if your trip requires some car time. The app is our favorite for finding free dispersed camping areas or places to sleep while on the road. This is perfect for backpacking trips where you might need to drive down to a trailhead the night before you begin your hike. It provides a database of campsites, parking areas, and other points of interest around the globe, along with reviews and ratings from other travelers. The app also allows users to filter locations by amenities such as water, toilets, and showers, making it easier to find the perfect spot. Additionally, the app provides information on border crossings, fuel stations, and other important travel information, helping users to plan their routes and stay safe while on the road.
Learn More & Download:
https://www.ioverlander.com/
Best For Plant & Animal ID - iNaturalist
​​The iNaturalist app is a super fun one to have along on your backpacking trip helping you identify the flora and fauna that you might encounter along your trip. Want to know what kind of flower that is? No problem. Birds? Yep, you're covered. With the app, users can take photos of any species they come across, and the app will suggest possible identifications based on visual recognition technology and community input. The app also has a large community of nature enthusiasts who can help identify species and provide information on the ecology and distribution of different species. Additionally, the app serves as a platform for citizen science projects, using data collected by users to inform research and conservation efforts. By using the app to document the species you encounter, you can contribute to these efforts and help protect the planet's biodiversity. Finally, the app allows users to search for species sightings in different areas, which can be helpful if you want to plan a backpacking trip around a specific ecosystem or species.
Learn More & Download:
https://www.inaturalist.org/
Best For Mountain ID - PeakFinder
Heading for the hills? Don't go without this app. PeakFinder, and the similar PeakVisor, will help you put names to the landmarks around you. With an augmented reality style, just hold up your phone's camera, point it at a mountain, and learn its name. This is great to sound smart to your trail partners and to better learn about the landscapes you're traveling through.
Learn More & Download:
https://www.peakfinder.org/mobile/
Best For Stars - Starwalk
One of the most magical parts of backpacking is taking in the night sky far, far away from the light pollution of the city. Star walk can be your guide to the night sky, with an augmented reality mode that uses your camera and compass to help point out constellations and planets, helping you learn about the sky above. Or, for photographers, the app can be your ticket to that money shot of the Milky Way, showing exactly where and more importantly when different celestial bodies will be visible.
Learn More & Download:
https://starwalk.space/en
---