Best Summer Backpacking Food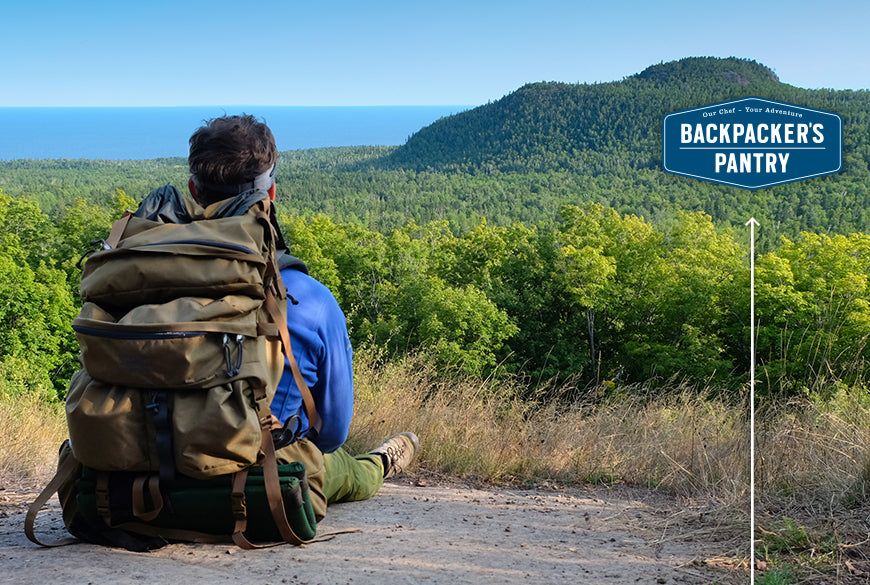 The All-Day Snack Buffet
By: John Huston
On expedition, I like to lunch all day long.
I see lunch as a calorie-bridge between the two main food events of the day. During an  expedition travel day I'm often expending so much energy – engaged in one form of self-propelled load hauling or another – that it is best to snack at frequent, regular intervals...typically every 90 minutes.
Taste, calories-per-gram, simplicity of ingredients, and packability are the main variables I consider when putting together trail lunch/snack menus. First off, the food needs to withstand the rigors of being stuffed into a pack, or at least emerge from a pack in an easily consumable form. Over the years I've found that foods made from a single or just a few simple ingredients provide the best on-the-move trail sustenance for me. The higher the ratio of calories-per-gram the lighter the total weight all of your food is going to be for any given calorie target. I look at calories-per-gram for weight efficiency, but also for how much punch (e.g. satisfying heartiness) that food item brings to the table. And of course it has to taste good in context – when you are sweaty, tired, dirty, hot, cold - it's hard to overstate the importance of your lunch snacks being appetizing at the particular moment when you need them.
Temperature and the length of the trip are the two primary variables that can determine how long perishable foods are going to last on trail. It is possible to eat some perishable foods several days or even a couple of weeks into a summer backcountry trip, but it's important to keep those foods airtight for as long as possible.
Ok, here are some of my favorite summer backcountry lunch snacks.
Simple Energy Sustaining Trail Food
Chocolate, preferably in a form that will hold up well to heat. No corn syrup or additives please, just straight up good ol' fashioned chocolate. Chocolate is an excellent carrier of calories and the right type of sweetness for me.
Cheese. Parmesan is my favorite backcountry cheese – pure umami in cheese form. It is nice and salty, low water content, high calorie, and keeps well. Other dry cheeses are good too; sharp cheddar for example. A box of cream cheese can last a long time unopened, and then two days or so once opened if the foil is sealed well.
Bars are hit and miss for me, but a lot of people love them. Sometimes I find them appetizing, but most often I find them to be too sweet and not very satisfying.
Meat in the form of natural-ingredient hard sausage or jerky. Jerky tends to be relatively low in calories, but I find the taste very appetizing.
Bread in form of bagels, tortillas, pitas, or crackers. Refrigerated or frozen versions should be avoided because they mold quickly due to moisture inside the packaging. Crackers can taste good, but contain a lot of air and crumble easily. If crackers are packed inside the original box they tend to hold up a little better. At the Voyageur Outward Bound School we liked to call the bread portion of lunch the 'vehicle' because it carries or goes well with other menu items.
Nut butters like peanut butter or almond butter can be great by themselves or spread on bread, bars, or even on chocolate. During a recent picnic our toddler twins ate a lot of string cheese sticks dipped in peanut butter. I didn't have the guts to try it.
Dried fruit is often too sweet for me as a backpacking snack, but a lot of people like it. My favorites are mangoes, cranberries, and candied ginger. Dried fruit is best if it is sulphur- and additive-free.
Nuts: I love salted nuts on trail. They have a good calorie-to-gram ratio. Macadamia nuts, aka butter in nut form, are my favorite. I also like pistachios, peanuts, almonds, pecans, and walnuts, all shelled of course. You can spice and roast your own nuts for fun flavors. Try pecans tossed in brown sugar, apple cider vinegar, salt, and cayenne pepper and then roasted in the oven. They're fantastic.
Granola is high in calories and can be a great trail food.
If I'm ahead of schedule or have a short travel day sometimes I'll take a longer break, make a proper freeze dried Backpacker's Pantry meal, and enjoy the view.
It's important to plan out how you are going to ration your lunch foods. We'll get into that stuff in a future post.
How about you? What are some of your favorite trail lunch snacks? It's always fun to find new and different trail lunch ideas.
Thanks for reading everybody.
---