10 Foods To Keep in Your Emergency Kit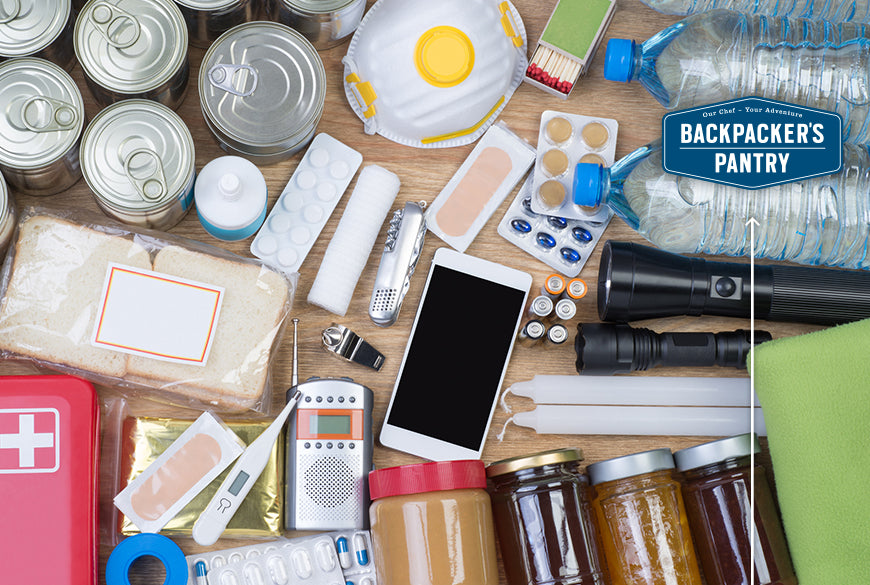 10 Tips For Stocking Your Emergency Food Kit
Natural disasters like tornadoes, hurricanes, wildfires, floods, and other events can leave you without electricity and clean drinking water, sometimes for days or weeks. Now more than ever it's important to be prepared for an emergency.
If you were to experience a natural disaster that knocked out the electricity, would you be prepared with enough food and water? With a well-stocked emergency food kit, you'll be ready to weather the storm. And when your kit contains these 10 essential healthy foods, waiting for the disaster to pass is much easier (and tastier).
What to Stock in Your Emergency Food Survival Kit
Clean drinking water

Jerky and other dehydrated meats

Canned fruits, veggies, and legumes

Canned soups and stews

Canned meats

Dried fruit

Crackers

Shelf-stable beverages

Granola and protein bars

Freeze-dried meals & desserts
How Much Food do you need in your emergency supply kit?
Recommendations vary between 3-14 days worth of food. Choosing to stock your emergency food kit with freeze dried meals, like from Backpacker's Pantry can help you keep more food on hand for emergencies thanks to its compact size.
1. Clean drinking water
First and foremost, every emergency kit should have a supply of drinking water. Avoid single-use plastic water bottles and purchase larger water jugs, which are also easy to stack and store.

How much water do you need in your emergency kit?
FEMA suggests storing as much as a two weeks supply of water in your emergency kit. This means 1 gallon of water per person per day, or 14 gallons per person. If you cannot store this much water, store as much as you can, and consider adding a water treatment method to your emergency survival supplies.
2. Jerky and other dehydrated meats
Jerky is a great source of protein, and you can find flavors that range from traditional beef to more unique flavors such as ostrich and lamb. While jerky is long-lasting, it should be stored in a sealed, airtight container to retain freshness. The shelf life of jerky can be up to multiple years if stored properly.
3. Canned fruits, veggies, and legumes
Most people think of dry goods and prepared foods that are high in salt, carbs, and protein - while these are easily stored and are important, fruits and vegetables shouldn't be left out of your emergency food stash. Grocery stores often have sales on canned food, so don't forget to watch for low prices on emergency essentials. Not only with this help add some variety to your emergency meals, but it will also make sure your diet is full of essential vitamins and nutrients.
4. Canned soups and stews
Many canned soups and stews are high in sodium, but that doesn't mean they don't deserve a place in your survival kit. Look for soups that are ready to heat and serve, such as our Three Sisters Stew.
5. Canned meats
Tuna isn't your only option for long-lasting canned meats. Salmon, sardines, freeze-dried chicken, and other meats are also available. With a bit of creativity, and a sprinkle of seasoning, you can have a great tasting meal ready in no time.

6. Dried fruit
Like jerky, dehydrated fruits can last for a long time when sealed properly. Make your own at home using a dehydrator, or grab some from the grocery store. If you can get to a Trader Joe's or similar store, you can choose from a variety of delicious pre-made fruit mixes. Having healthy snacks on-hand will be welcomed, especially when most emergency survival food is focused on shelf life and calorie density.
7. Crackers
Crackers last longer than bread, making them a good fit your for emergency food kit. Eat them with some canned meat, and you have a quick, easy, and filling meal or snack. Just be sure to check the expiration dates regularly, since most crackers stay fresh for several months.
8. Shelf-stable beverages
Shelf-stable drinks don't require refrigeration until they've been opened. Canned or boxed milk, almond milk, rice milk, soy milk, and juices are all great options. Electrolyte drinks, like Gatorade, can also come in handy. Avoid sugary drinks like soda that might actually make you more dehydrated.
9. Granola and protein bars
For a quick snack, nothing beats a protein bar or granola, like our Granola with Bananas, Almonds & Milk. Keep a package or two of your favorites in your food kit for an extra energy boost while you're waiting for the power to be restored. Powdered milk can be a good addition, too, so you're not just eating dry cereal.
10. Freeze-dried meals & desserts
Keep a stash of freeze-dried meals on hand, and you can enjoy a gourmet-tasting meal anywhere. Be sure to give our fan-favorites and ambassador picks Chana Masala and Fettuccine Alfredo a try. There are also tons of Backpacker's Pantry Emergency & Survival Freeze-Dried Meals kits in 3,7, and 14 days options. As well as our custom DIY Emergency Meal Kits where you can choose the meals that fit your tastes and diets (meat, vegan, and vegetarian) that have everything you need to stay safe and satiated. To satisfy your sweet tooth, we offer an array of Freeze-Dried Desserts as well. Our meals have the added advantage of an extended shelf life, which is 3-10 years in most cases.
Remember to check expiration dates annually
When stocking an emergency kit, it's important to remember that certain grocery items, like crackers, jerky, and shelf-stable drinks, typically have a shelf life of 18 months (at best) and freeze-dried meals usually have a 3-10 year shelf life. That's why it's so important to check expiration dates at least once per year. Food that's getting close to the date should be eaten, composted, or thrown away.
---